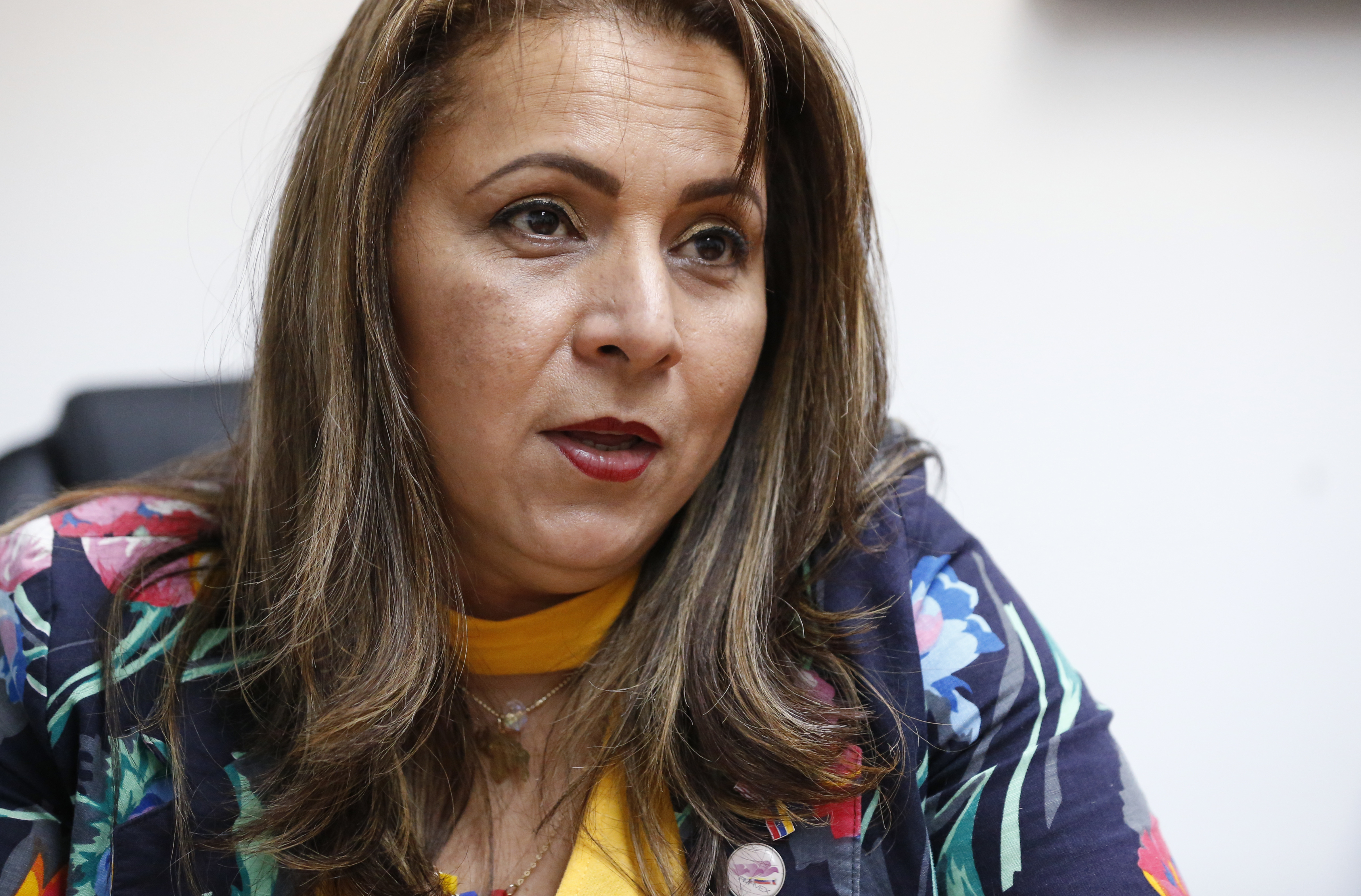 By GISELA SALOMON
Associated Press
MIAMI (AP) — Helene Villalonga decided she had to get out of Venezuela for a while when two men, one brandishing a gun, showed up at her party rental business and told her to stop working for local politicians opposed to then-President Hugo Chavez. Villalonga put a sign in the window of her business that said "closed for vacation" and set off with her two youngest children to the U.S., figuring she would be gone a few weeks.
But it hasn't worked out like she expected. The weeks turned into months and then years. As Venezuela started a massive downward spiral, she and many other Venezuelans put down deeper roots in the U.S. In a demographic trend that has political and economic implications back in their South American country, a growing number say they may never return. "I would like to return to Venezuela like it was, but that place doesn't exist anymore," said Villalonga, a Florida resident who has helped organize voting among her fellow exiles. "I'll never see it now."
This is a profound shift. Venezuelans used to typically come to the U.S. to visit or study. Their country offered its more fortunate citizens a lifestyle and economy that was better than virtually anywhere else in Latin America. Its people visited Florida to go shopping and see Disneyworld like tourists from Europe, and then they went home.
But more recent arrivals are starting to acknowledge a bitter reality: Conditions in the South American country have forced many to conclude that their future is overseas. "It is beyond what anyone ever imagined," said Veronica Huerta, a 57-year-old in Miami who fled in 2003. "To go back now would be very hard."
For Villalonga, it was gradual process. The men came into her business in Valencia in 2000, asking for her by name and making sure she could see one was armed. After she left the country, her husband was attacked in the street and soon joined her in South Florida with their third child.
The situation in Venezuela, meanwhile, only got worse. Chavez died and was replaced by his hand-picked successor, Nicolas Maduro. The government grew increasingly authoritarian, the economy spiraled downward, and crime rose, with one of the highest homicide rates in the world. It's gotten so bad that hundreds of thousands of people are fleeing across the borders of neighboring Brazil and Colombia, some saying they barely had enough to eat in Venezuela.
A fearful Villalonga never went back, even for important family milestones like the death of her brother. People who study immigrant trends in the United States say the Venezuelans harken back to the Cubans who fled the 1959 revolution and the upheaval that followed.
"The initial wave of Cubans that came to the United States when Fidel Castro came to power had hopes to return to Cuba soon at some point when Fidel Castro was no longer in power," said Mark Hugo Lopez, director of Hispanic research at Pew Research Center. The Venezuelan story "is an echo" of their experience.
Unlike those fleeing to other South American countries, the Venezuelans who have come to the U.S. tend to be from the middle and upper classes, and their departures have had economic repercussions in their homeland. Many homes in Venezuela are empty and real estate prices have collapsed, marking a change from years prior when people would preserve wealth in the face of hyper-inflation by investing in property.
There are political consequences as well. Expatriates had been a small, but influential force in past elections. Villalonga helped mobilize three buses with 180 people to vote in the presidential elections of 2013, which they had to do in New Orleans because Chavez closed the Miami consulate to punish the opposition-dominated expat community. She's not planning to do that for this year's upcoming presidential election because she doesn't feel represented by opposition leaders and doesn't see the point of getting involved.
She's not alone. With Maduro expected to triumph over divided and dispirited opponents, enthusiasm among overseas voters overall appears to have declined. "I don't think our vote will make any difference at this point," said Elvira Ojeda, a 45-year-old business owner who came in 2011. "The energy is gone."
Various polls have shown that about 10 percent of the electorate, or between 1 million to 2 million people, are outside the country. The Venezuelan government says it projects only about 100,000 will take part in overseas voting for May elections.
"While it's true that the vote of the diaspora is essential, in this election it won't amount to anything," said Moises Rendon, a public policy analyst for the Center for Strategic and International Studies in Washington. "There's a sense of frustration in the exile community, as there is in Venezuelan society in general, that there is no way out of the situation."
The Venezuelan population in the United States has more than doubled over the past decade to about 366,000 as of 2016, according to the census, with about half in Florida. More than three-quarters of the total came after Chavez took office. The number of Venezuelans seeking political asylum in the U.S. doubled last year to 28,000, a figure that is five times as much as in 2015.
Their presence has been felt most strongly in the South Florida suburbs of Doral and Weston, communities where it's common to find the red, blue and yellow of the Venezuelan flag. People from Venezuela regularly feature near the top of the list of foreign property buyers in the Miami area as they seek safe havens for their capital and put down roots. A local association of Venezuelan lawyers now has about 200 members, up from 10 founders in 2013. Membership at the Venezuelan Chamber of Commerce has doubled to more than 300.
Venezuelan-born Cristina Pocaterra says it is hard to imagine going back to the country. She came for what she thought would be a temporary work assignment in 1999 and ended up becoming a naturalized citizen in 2014 and giving birth to twins. She is trying to get her 74-year-old mother to join her. "Those of us who left had to do so in order to develop," said the 54-year-old business consultant. "Now, I don't have anything concrete left in Venezuela."
Those who have chosen to stay in the U.S. find ties only deepen as more time passes. Villalonga, now 48, and her husband eventually became citizens and had two more children. One of their kids is now in college and another is considering joining the military. Her husband manages a family-owned moving company. Villalonga is active in helping migrants and victims of domestic violence through her nonprofit organization. And her mother came to help with their kids 10 years ago, married an American and stayed.
"I have my life here now," she said.