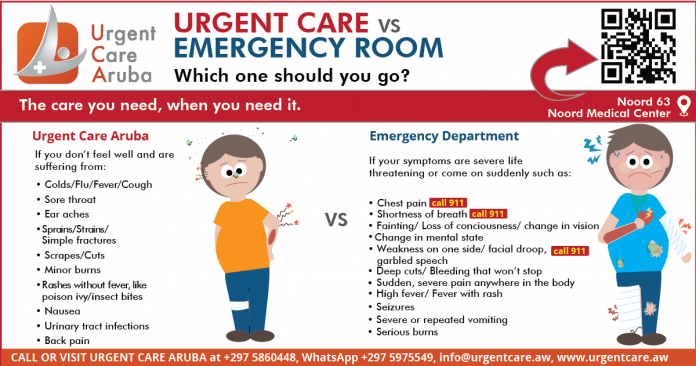 Imagine yourself arriving on the beautiful island of Aruba. You've scheduled your days with exciting activities or to relax by the beach or pool. Of course, the least you would expect is to get sick or become in need of medical assistance. Because honestly, who does that while on vacation?
But when that happens, you need to know who and where to visit. So, the first step is to assess your medical need and its urgency.
At Urgent Care Aruba, we offer medical assistance for non-life-threatening illnesses and injuries. We accept walk-ins from Monday to Friday from 8 am to 8 pm, Saturday from 8 am to 4 pm, Sunday/Holiday from 10 am to 2 pm. Therefore, receive a better cost value than the Emergency Room as the alternative option.
Other services offered at the Urgent Care Aruba is X-Ray (Without Appointment), Ultrasound (With Appointment), and Gynecology Services (With Appointment).
Visit us to assess your symptoms, and we'll provide you with a proper diagnosis and treatment since we will also provide you with a prescription if deemed necessary.
Our mission is to have you back on your vacation; that is why we offer quick, reliable, and efficient medical service.
Please view our comparison information chart: Urgent Care vs. Emergency Room.
Contact us for more information at +297 5860448. WhatsApp +297 5975549, info@urgentcare.aw, or visit our website at www.urgentcare.aw or visit us at Noord 63, Noord Medical Center.
Rate our service on Google!