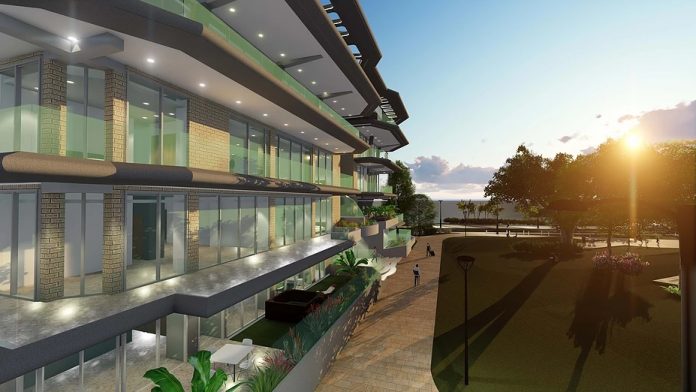 Coral Shell new luxury condos are located in the heart of Aruba at Oranjestad. This new luxury living offers 25 exclusive condominiums in different lay out: one, two, three, four and five bedrooms. All apartments have a spectacular view of the turquoise colored Caribbean ocean while located in the buzz of dynamic Oranjestad.
Characteristics of the building style are light colors, open air, sea and sky with lots of windows. Here you will get inspired with the elements floating in and the free spirit the condos provide you with. Ingredients of the offered lifestyle are joy, luxury, peace, satisfaction and unwind. This is home coming to feel as you are, just YOU.
Lush Lifestyle
Coral Shell residence features are marble floors, double glass windows, kitchens fully equipped, modern, custom-designed closets and bathrooms, private laundry, private parking and fully air conditioned apartments. The residents will be able to enjoy amazing amenities like expansive social areas, an infinity pool and sun deck, a children's pool, a fitness center overlooking the bay, spacious lobby, sauna, outdoor kitchen and barbecue. Wellness, sport, leisure, recreation, entertaining, socializing and a varied diversion to suit all ages and interests are included in the lifestyle Coral Shell offers.
Paradise in the Pocket
Imagine this being your own dream home functioning as a base for exploring the wonderful island of Aruba. You can take a stroll in the adjacent Boy Ecury Park or do a work out in the Linear Park, just opposite your building.
Shopping malls Renaissance Marketplace and Renaissance Mall, with their exclusive shops, are just a stone's throw away as is Oranjestad's downtown with its tram and shops. Restaurants, the cinema, night life are all within reach while the beautiful Surfside Beach is just 2 minutes away from your door. This city beach alongside the famous linear park is considered a hidden gem for tourists and a favorite spot for locals. Relax underneath the cooling shades of the kwihi trees and enjoy a lovely sunset while majestic cruise ships and local fishermen pass you by. Paradise is in your pocket with Coral Shell Condominiums.
Ready to Show
The condominiums are already in the final phases of construction in order for interested buyers to see the layout in real and feel the space of the different sizes. You will be surprised how the large windows allow the sun to light up the interior and strengthen the color of everything including the blue ocean in front of you. Waking up in a sea of light is a blessing here and combined with the perfect location you have it all. Coral Shell is a guarantee for a happy day!
Please contact to visit:
Phone: +297 587 9170
L.G. Smith Boulevard w/ Beatrixstraat 20
Oranjestad
www.coralshellaruba.com