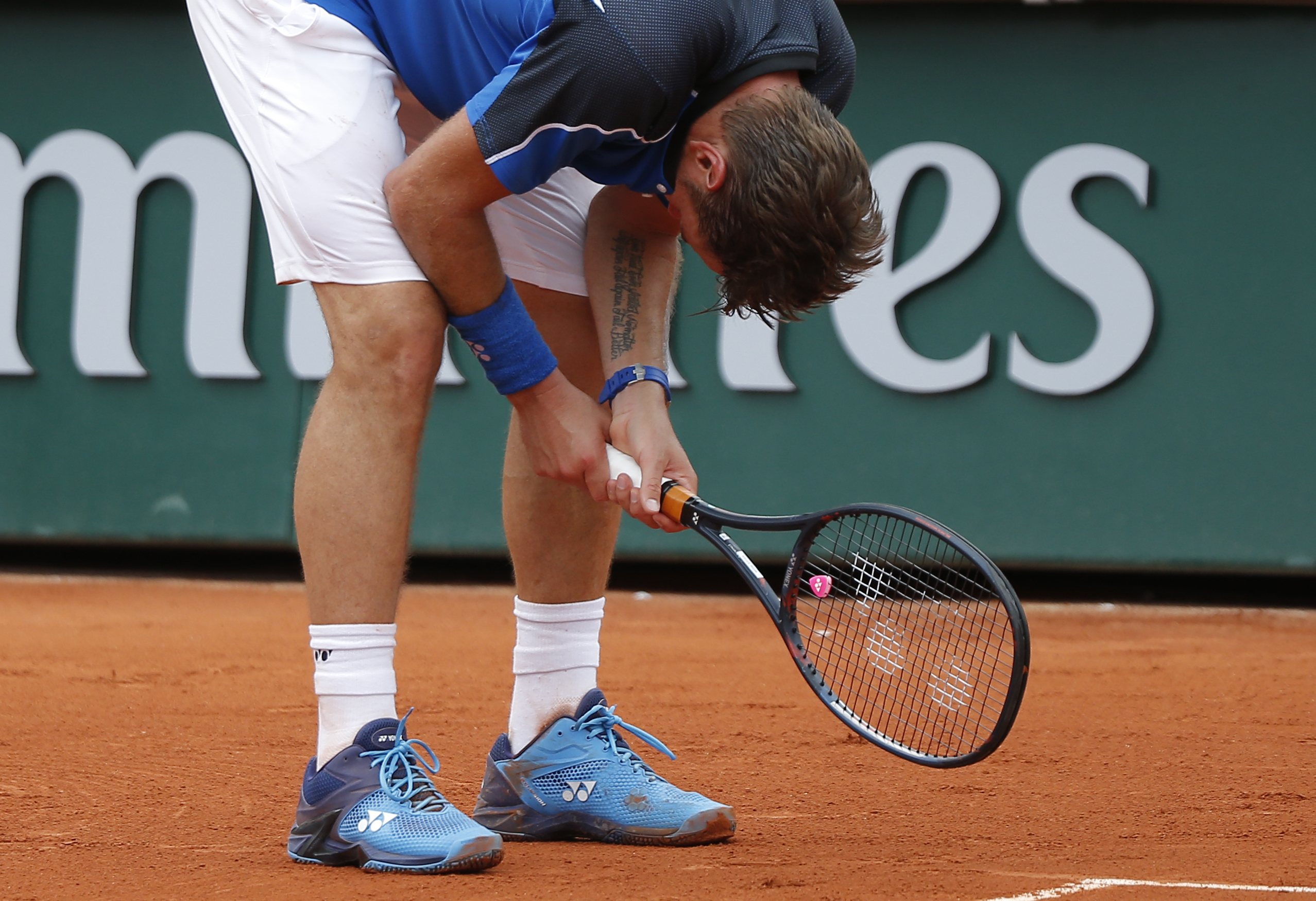 By HOWARD FENDRICH
Associated Press
PARIS (AP) — Like Novak Djokovic, Stan Wawrinka is a past French Open champion still working his way back into form after surgery. Like Djokovic, Wawrinka is ranked lower than he has been in more than a decade. And like Djokovic, Wawrinka recently reunited with a coach who helped guide him to success earlier in his career. Both men were in first-round action at Roland Garros on Monday, but unlike Djokovic, who won in straight sets, Wawrinka could not summon and sustain the sort of high-level play that has carried him to major titles in Paris and elsewhere.
Returning to a place where he won the title in 2015 and made it back to the final a year ago, Wawrinka bowed out with a 6-2, 3-6, 4-6, 7-6 (5), 6-3 loss to 67th-ranked Guillermo Garcia-Lopez of Spain."I won three Grand Slams in my career, and I know what it takes to do it," said Wawrinka, who was seeded 23rd and is ranked only 30th, territory unfamiliar to him since April 2008. "And my goal is to get to my top. Sooner or later, I will." Wawrinka only recently returned to the tour after missing three months to rest his left knee, which was operated on twice last August. He's played 11 matches in 2018, going 4-7.
As Monday's match stretched to 3½ hours, Wawrinka was hindered by the physical strain of playing in a fifth set for the first time since his French Open semifinal victory over Andy Murray a year ago. But that wasn't the biggest impediment to success. "It was more the difficulty of continuing to go for it mentally," he explained. The owner of one of the prettiest one-handed backhands in the sport, Wawrinka — who is again working with coach Magnus Norman — only managed 12 winners, compared with 35 unforced errors, with that shot. He finished with 72 unforced errors in all, 32 more than Garcia-Lopez, who never has been past the fourth round at a major tournament.
"There is no frustration. It's just tough," said the 33-year-old Wawrinka, who's been as high as No. 3 in the rankings. "But I'm on the right way. It was very close today." Djokovic — a former No. 1 now ranked 22nd, his worst spot since 2006 — beat 134th-ranked qualifier Rogerio Dutra Silva of Brazil 6-3, 6-4, 6-4, quickly recovering after dropping the opening two games. Since winning the 2016 French Open to complete a career Grand Slam and become the first man in nearly a half-century to collect four consecutive major trophies, Djokovic has taken a step back. He has not added another major championship since, and after dealing with right elbow trouble for more than a year, he finally opted for surgery in February.
"I had to dig deep," Djokovic said, discussing the work it took to try to rebuild his game. "It has been difficult to face … the most, say, challenging injury that I have ever had. It's been a long 12 months behind me, but I'm starting to play better, I feel like, in the past couple of weeks," said Djokovic, who is being coached at Roland Garros by his former long-time mentor Marian Vajda. "Not thinking about the elbow. Playing pain-free, which is the most important thing at the moment." The third past men's champion on the schedule for Day 2, No. 1-seeded Rafael Nadal, did not complete his match, which was suspended along with several others because of rain in the evening.
Beginning his bid for a record-extending 11th French Open title, he never quite seemed to be at his absolute best against 129th-ranked Simone Bolelli of Italy, and while Nadal grabbed the first two sets 6-4, 6-3, he was trailing 3-0 in the third when action was halted. They'll resume Tuesday, when the most anticipated match of the tournament is scheduled for the main stadium: 23-time major champion Serena Williams, in her first Grand Slam match since January 2017, against 70th-ranked Kristyna Plyskova of the Czech Republic.
Bolelli got into the main draw as a "lucky loser," someone who was eliminated in qualifying but then got a reprieve when another player withdrew from the field. Another such entrant drew a lot more fanfare: 190th-ranked Marco Trungelliti of Argentina, who drove 10 hours from Barcelona to Paris — sharing a rental car with his 88-year-old grandmother, mother and brother — on Sunday to accept a berth, then went out and defeated Bernard Tomic 6-4, 5-7, 6-4, 6-4. "We were at home," Trungelliti recounted. "We were preparing to go to the beach."