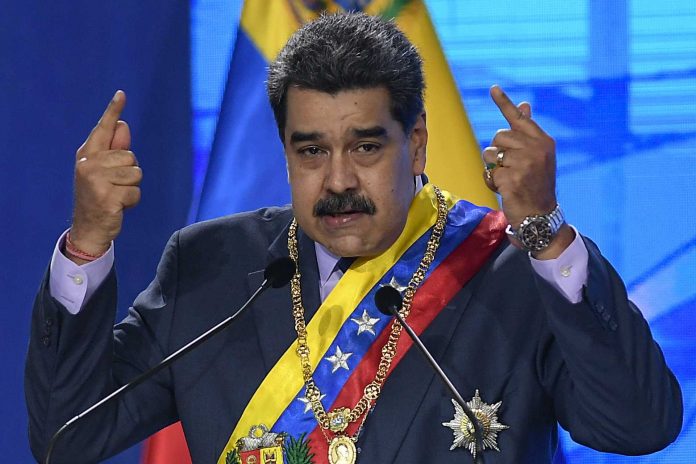 Associated Press
GENEVA (AP) — A U.N.-backed panel investigating human rights violations in Venezuela said Wednesday the South American country's government has intensified efforts to curtail democratic freedoms with threats, surveillance and harassment as President Nicolás Maduro faces a re-election contest next year.
The international fact-finding mission authorized by the U.N. Human Rights Council said the government shifted tactics since the COVID-19 pandemic, which marked the end of mass opposition protests and subsequent extensive arrests and torture of demonstrators.
Now, the report said, authorities are increasingly repressing specific members of civil society, including politicians, labor leaders, journalists, human rights defenders and other real or perceived opponents. The targets have been subjected to detention, surveillance, threats, defamatory campaigns and arbitrary criminal proceedings on hate speech or terrorism charges, the report said.
"By criminalizing participation in legitimate activities, the government is silencing and creating a chilling effect on anyone who might consider participating in any activity that could be perceived as critical of government," Patricia Tappatá Valdez, a member of the fact-finding mission, told reporters Wednesday.
The three-member mission said at least five arbitrary executions, 14 short-term enforced disappearances and 58 arbitrary detentions took place from January 2020 through August 2023. It also documented 28 cases of torture or cruel, inhumane or degrading treatment of detainees, of which 19 involved sexual and gender-based violence, during the same period.
The government did not immediately respond to a request for comment from The Associated Press. It has also failed to respond directly to the mission, which has not received permission to enter the country.
The mission does not have judicial powers, but the evidence it has gathered could be used by the International Criminal Court or by any country that might apply "universal jurisdiction," such as Argentina, to prosecute alleged crimes against humanity. The mission has previously decried "crimes against humanity" in Maduro's Venezuela.
The report came just over a month before a primary election organized by factions of the Venezuelan opposition to choose a candidate to face Maduro in the 2024 election. The experts noted that the government barred three potential candidates — Henrique Capriles, Maria Corina Machado and Freddy Superlano — from taking part.
Venezuela's government frequently sidelines adversaries by banning them from public office, and not just in presidential contests. Such a ban was used retroactively in 2021 to remove Superlano, then a gubernatorial candidate, when he was ahead of a sibling of the late President Hugo Chávez but had not yet been declared the winner.
Machado is a conservative, free-market firebrand seen as radical even among the right-leaning opposition for her unwillingness to negotiate with the Maduro government, but she has nonetheless become the leading candidate. Her ban, issued by the Comptroller General alleging fraud and tax violations, was dated just three days after she entered the primary race.
Tappatá Valdez said the lack of independence of government institutions and the concerted efforts of some them, including the Comptroller General, the Ombudsman Office and the National Electoral Council, "contribute to curtailing the civic and democratic space."
Venezuela plunged into a political, economic and humanitarian crisis last decade, pushing at least 7.3 million people to migrate and making food and other necessities unaffordable for those who remain.
Maduro was re-elected in 2018 after judges banned his main opponents from competing. But most opposition parties refused to recognize the election results. Instead, they challenged Maduro's rule by creating an interim government led by Juan Guaidó, who was backed by the United States and dozens of nations that stopped recognizing Maduro as Venezuela's legitimate leader.
The U.S. government also imposed heavy sanctions on Maduro's government that cut its access to U.S. banks and crippled the nation's oil exports, hoping that would spark regime change. But Maduro's government dug in and resisted the sanctions with support from Russia, Turkey and Iran.
Guaidó's claim to Venezuela's presidency fizzled out, and he moved to the U.S. in April, citing increasing safety threats to himself and his family.