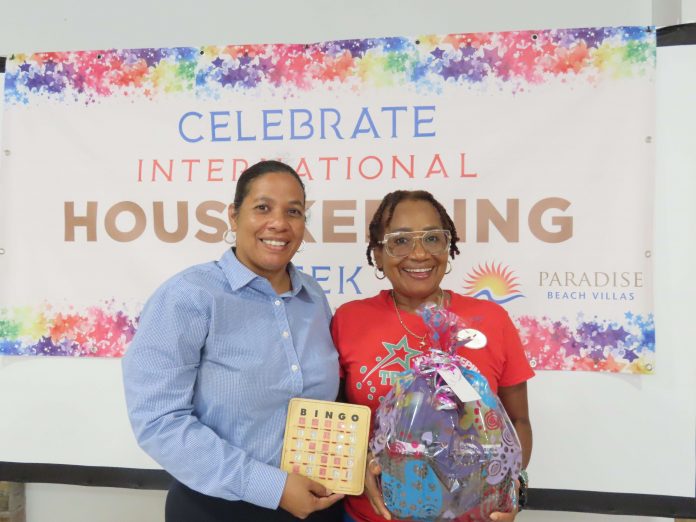 (Oranjestad)—Paradise Beach Villas honored their employees of the Housekeeping Department during the International Housekeeping Week, which took place on the second week of the month of September. During the opening day Mr. Freddy Albertus, Managing Director, highlighted the tireless work, dedication, and passion of the housekeeping employees.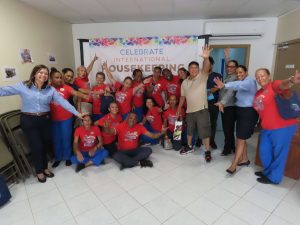 He stated that they always go the extra mile to deliver a quality product for the enjoyment of our guests. Mrs. Lillian Britten, Resort Manager, extended her appreciation, gratitude, and recognition to each one of the employees presented. Yina Maduro, HR Manager, congratulated all employees in the celebration of this special week. The managers of the Housekeeping Department Alex Krozendijk and Jeanette Kaersenhout ordered a nice red T-shirt, a bag, and a water bottle as gifts for this special occasion. One of the activities that the employees enjoyed the most was the Bingo. Special congratulations go to Ricardo Rosario who won the Weekend Stay. A big thanks on behalf of the Managers of Paradise Beach Villas for the breakfast invitation cooked and offered by the Housekeeping staff, who demonstrated one more time, their cooking skills.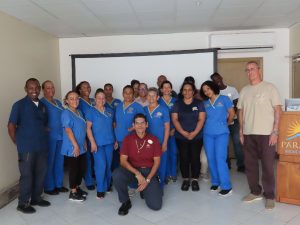 A feeling of gratitude goes to the following invitees to be part of the Housekeeping Week celebration: Hubert de Cuba for the training offered titled "Housekeeping Safety Awareness"; Ruth Schoop for the Workshop of Mental Health; To Paradise Beach Villas for inviting all their Housekeeping employees to a whole day of excitement at the Water Park; Gina Pieters and Esther Lacle for helping to organize Housekeeping Week. To the Management of Paradise to always put their employees in the first place. A huge thanks on behalf of Housekeeping employees to Mr. Steven & Mrs. Valerie Brodbeck who during their vacations have surprised the employees with a beautiful gift made by them. This gesture demonstrated one more time that our guests appreciate and value the work of Housekeeping Department. Thank you very much!