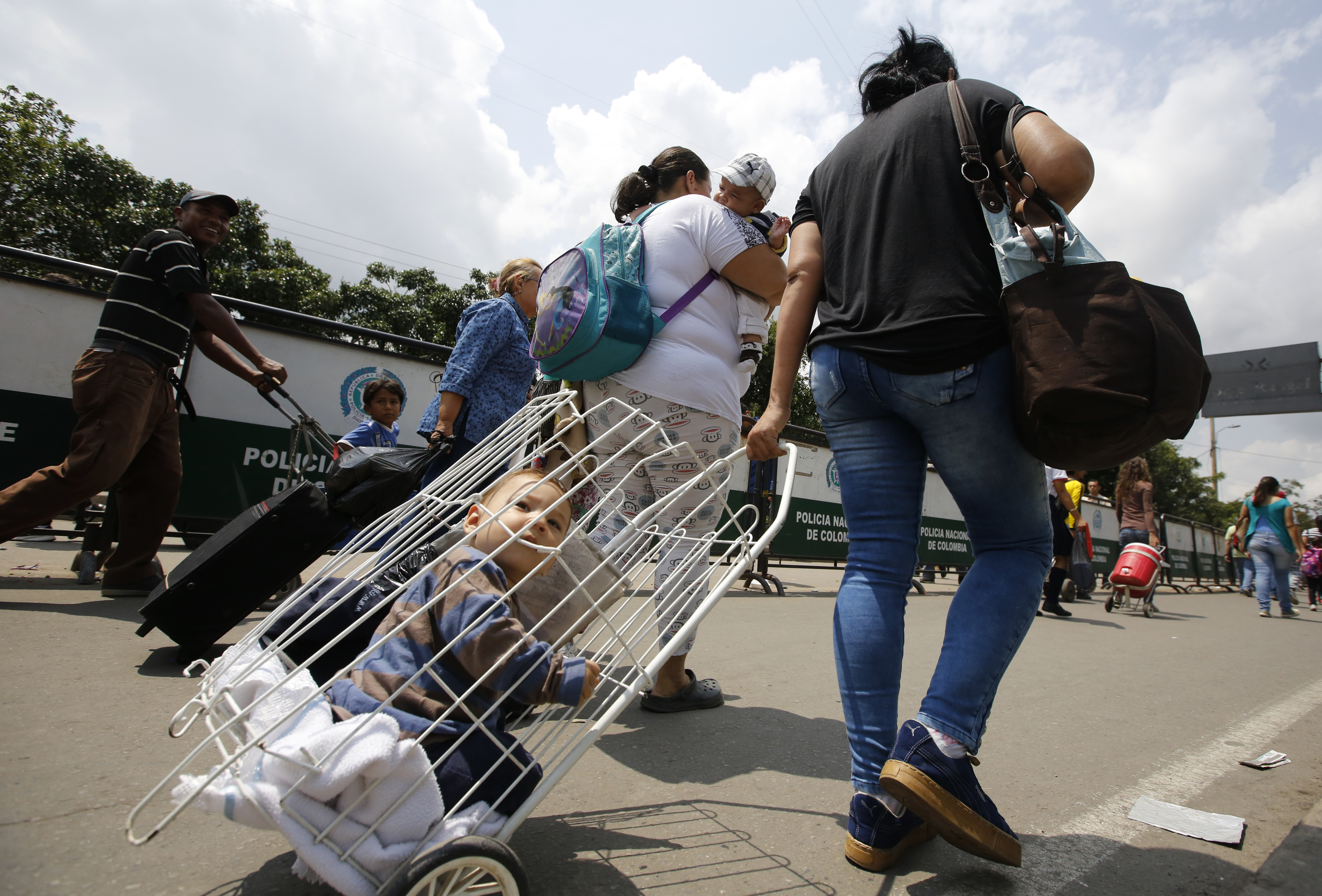 By J. GOODMAN
Associated Press
BOGOTA, Colombia (AP) — Colombia urgently needs international help as it struggles with a humanitarian "catastrophe" along its border caused by a flood of Venezuelan migrants driven from their homes by hunger, a senior U.N. official said this week. David Beasley, director of the World Food Program, said the harrowing reports he heard from Venezuelan migrants makes raising awareness of the crisis an urgent priority.
"This could turn into an absolute disaster in unprecedented proportions for the Western Hemisphere,"Beasley said in an interview following a two-day visit to talk with migrants in the Colombian border city of Cucuta. "I asked, 'Why are you here?', and the answer people gave me was, 'We don't have any food.' And they said, 'Even if we had money, there's no food,'" Beasley recounted. "I don't think people around the world realize how bad the situation is and how much worse it could very well be."
As hyperinflation and widespread shortages of food and medicine batter Venezuela, rising numbers of its people are joining in an exodus that has set off alarms across Latin America. Independent groups estimate as many as 3 million to 4 million Venezuelans have abandoned their homeland in recent years, with several hundred thousand departing in 2017 alone.
Beasley, who discussed the crisis with Colombian President Juan Manuel Santos, said the ideal approach would have the United Nations and international agencies attack the problem by working inside Venezuela.
But that is not an option for now, because Venezuelan President Nicolas Maduro has
repeatedly rejected offers of humanitarian aid as a veiled attempt by the U.S. and others to destabilize his socialist government amid calls by the opposition to oust him. Instead, Beasley is urging the U.S. and other nations to provide financial assistance to Colombia, where the bulk of the Venezuelan migrants are arriving. He said Colombia's government enjoys the confidence of the global community while Maduro's does not.
Since the end of last year, the Rome-based World Food Program has helped feed almost 2,000 people in Colombia, working mainly with Roman Catholic charities. A more robust program is still in the works, but Beasley said it's likely to focus on pregnant women and children. He said it could include a range of approaches, ranging from cash payments to the
delivery of commodities for feeding migrants.
The World Food Program feeds 80 million people annually around the globe, about two-thirds of them in conflict zones. It has been present in Colombia for years, focused on feeding those displaced by the country's half-century guerrilla conflict that is now winding down. It is working with the government to help meet its goal of eradicating malnourishment by 2030.
Venezuela's problems aren't being driven by armed conflict, but the crisis has the potential to get a lot worse, Beasely said. He noted the food emergency in Syria started off as a trickle but now demands U.N. assistance to help feed 6 million people a day in a country with a smaller population than Venezuela.
"Colombia has made so much progress in the past many years with peace and the last thing it needs now is for all that success to be undone," said Beasley, a former governor of the U.S. state of South Carolina. "So I will be expressing to other nations the severity of this crisis and why they must come to help the Colombian people immediately."