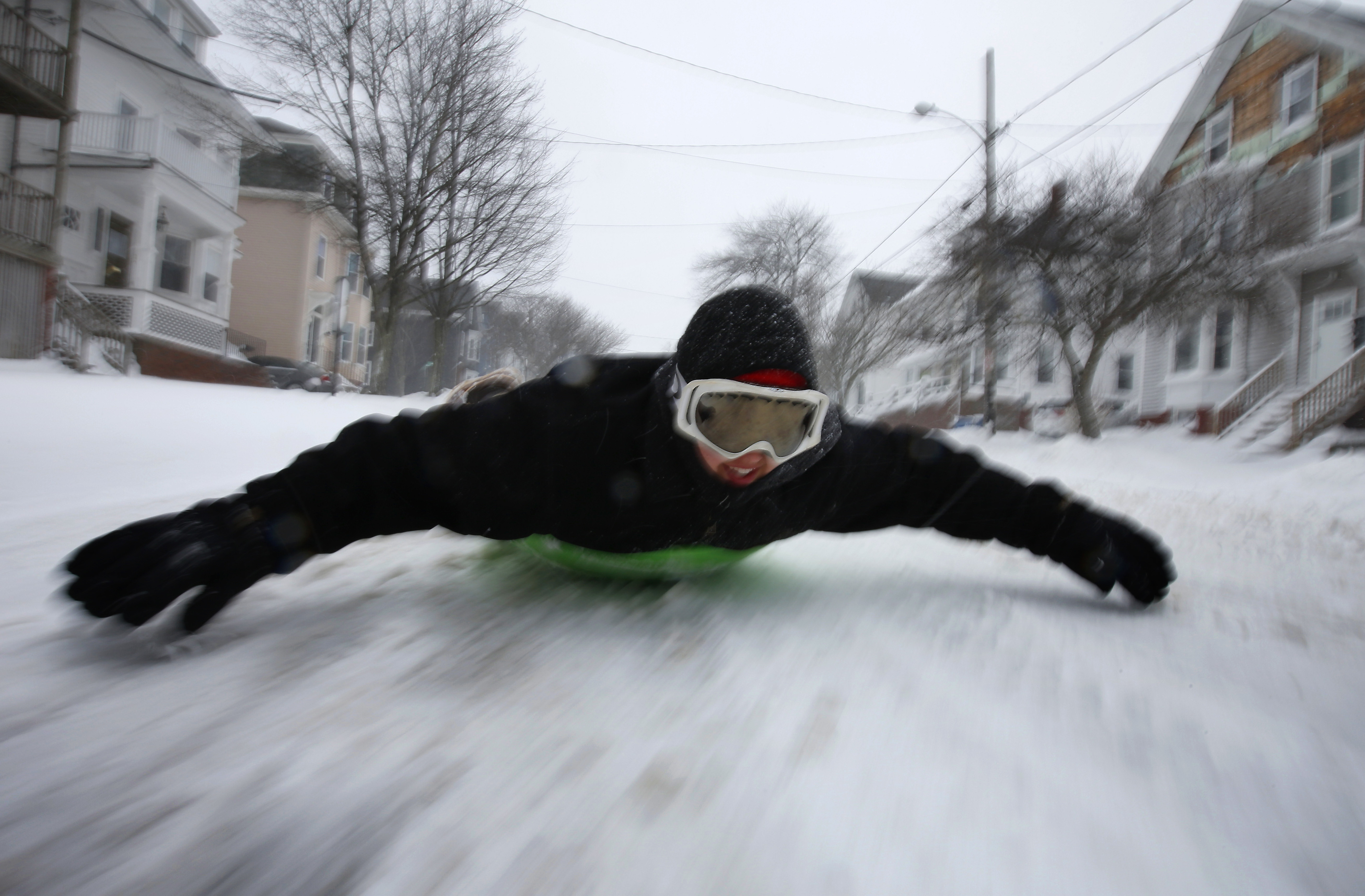 By ALANNA RICHER
Associated Press
BOSTON (AP) — The third powerful nor'easter in two weeks slammed the Northeast on Tuesday, bringing blizzard conditions and more than a foot of snow to some communities and knocking out power to tens of thousands of homes and businesses. High winds and blowing snow led meteorologists to categorize the storm as a blizzard in parts of New England, including Boston.
By afternoon, power outages climbed to more than 250,000 just in Massachusetts, Rhode Island and Connecticut. "We're not out of winter yet, that's for sure," Paul Knight, of Portland, said as snow accumulated on his eyebrows during a stroll. "The groundhog was right. Six more weeks of winter, and probably then some." Boston's usually-packed subway trains were nearly empty as many workers stayed home and schools closed. Amtrak suspended all service Tuesday between Boston to New York City.
The storm was expected to last through most of Tuesday, disrupting road and air travel. The flight-tracking site FlightAware reported more than 1,500 canceled flights on Tuesday. At Boston's Logan International Airport, the terminals were mostly empty with airport workers and the cleaning crew outnumbering passenger More than a foot of snow was reported in parts of Massachusetts, New Hampshire, Maine, Connecticut and Rhode Island on Tuesday afternoon with storm expected to continue dumping snow for several more hours.
Some areas could get more than 2 feet, meteorologists said. Not everyone complained. Andrew Gesler, who was walking in Portland with his son in a stroller and his dog alongside, said he was happy to see another big storm. "I think it may be one of the last ones so I'm out here appreciating it," Gesler said. "I love the white stuff, always had ever since I was a kid."
Janice James' Osterville house on Cape Cod was in the dark again after losing power for three days in the last storm. James and her four children spent Tuesday eating baked goods she made before the storm and hoping the lights and heat come back soon. "We are freezing," the 39-year-old said. Joe Rotella ducked into a train station as he tried to find his way to a hotel that's hosting a convention where he's speaking. Organizers were scrambling to establish video links to speakers whose planes were delayed or canceled, said Rotella, chief medical officer with the American Academy of Hospice and Palliative Medicine.
"As a visitor to Boston, I've been looking forward to this for months, and this is kind of an adventure for me," the Louisville, Kentucky, man said. "I didn't have to go through the last two nor'easters so this still feels like fun." Miami residents Ashley Pozo, 21, and Ray Milo, 25, who we visiting friends in Boston, were stuck at the airport after their Tuesday flight was canceled. Rather than risk getting stranded in the city, they plan to stay another night in the airport, sleeping on chairs, watching Netflix and munching on supplies they picked up from a CVS drug store.
In Rhode Island, the snow didn't stop residents from getting to church. In East Greenwich, the Rev. Bernard Healey said he celebrated noon Mass with "two hearty souls" who came despite the nor'easter. "If I lost power, we'd (still) celebrate Mass," Healey said. "We would just use more candles." Eastern Long Island felt the brunt of the storm in New York. Newsday reported that the storm knocked out power to more than 6,000 homes and businesses on Long Island, and forecasters said the island's East End could get up to a foot of snow.
Slick roads were blamed for at least one death in North Carolina, which got snow Monday.