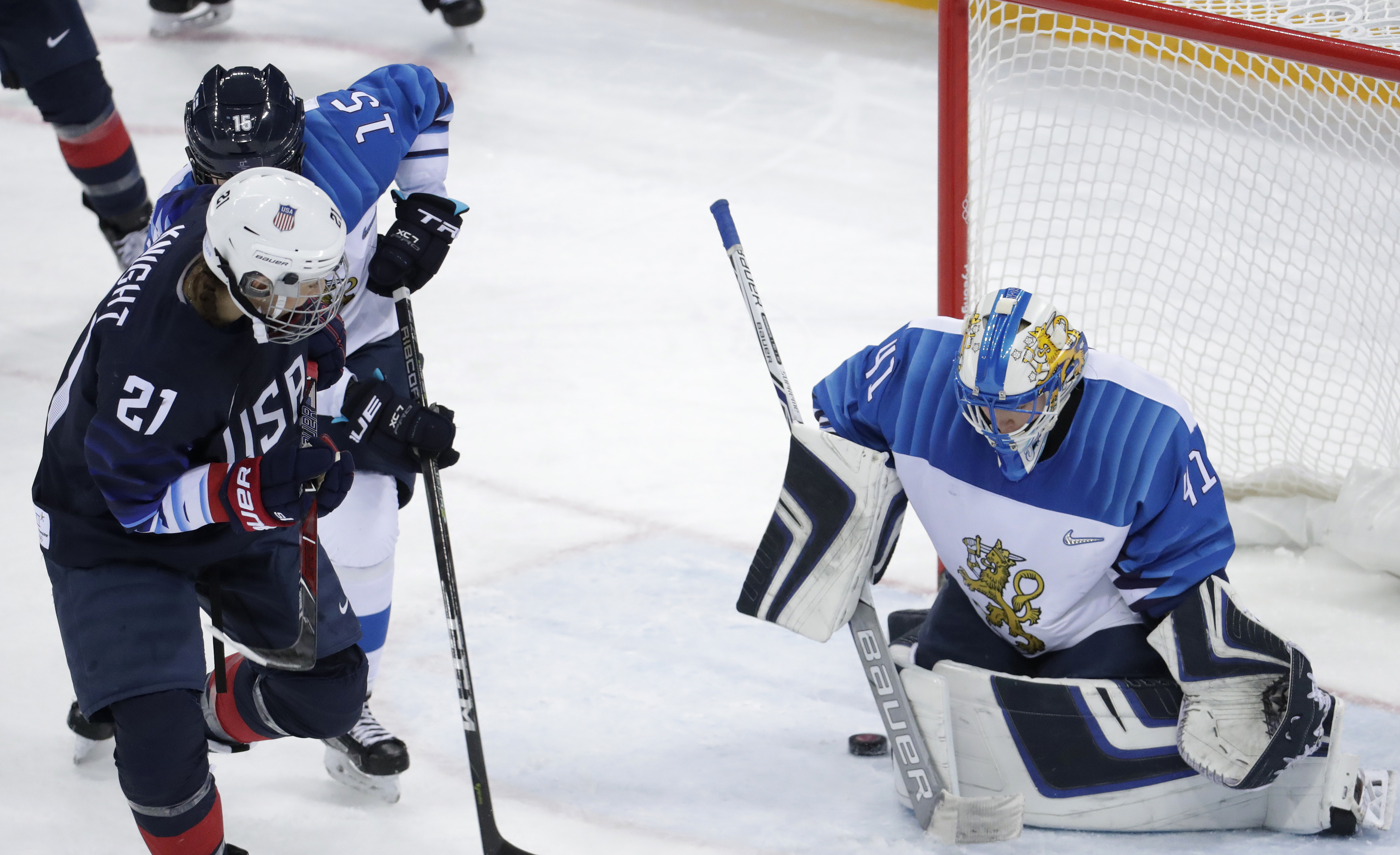 By TERESA M. WALKER
AP Sports Writer
GANGNEUNG, South Korea (AP) — The Americans played their way back into the only women's hockey game that matters: a showdown with Canada for the Olympic gold medal.
The Americans are back in the title game for a third straight Olympics after shutting out Finland 5-0 on Monday in the semifinals. They will face their archrival on Thursday, and the Americans will be trying to win their first gold since 1998 when women's hockey made its debut in the Olympics.
And yes, the Americans understand the United States-Canada playing for gold is what everyone expects to see. "Definitely the rivalry has been there since I think I was born, so everyone's looking forward to that," said 22-year-old Dani Cameranesi.
This will be the third opportunity at gold for six Americans: captain Meghan Duggan, Hilary Knight, Gigi Marvin, Kacey Bellamy and twin sisters Monique Lamoureux-Morando and Jocelyne Lamoureux-Davidson.
"It's honestly a dream come true," Knight said. "This is the world's biggest stage. This is the game that you want. This is the game we've been dreaming of and to have another opportunity to get back here, it's huge." Canada is the four-time Olympic champion and has won the last five games against the U.S. The Canadians know a battle is likely.
"You never know what you're going to get," said Jennifer Wakefield, who scored twice in Canada's 5-0 semifinal win over the Russian team. "It's going to be heated. You're going to see a lot of good skill working. It's best on best and that's what the Olympics are for."
Olympic newcomer Cameranesi scored two goals and added an assist to lead the Americans past Finland. Marvin started the scoring, and Lamoureux-Davidson and Knight both scored during a 5-on-3 34 seconds apart in the second period. Maddie Rooney made 14 saves for the shutout.
Finland remains winless in eight games against the Americans at the Olympics. The Finns, ranked third in the world last year, will try to take home the bronze medal for the first time since 2010.
"We're got one thing on our mind, and that's to get a medal," said goaltender Noora Raty, who made 33 saves. "They're the best in the world (U.S. and Canada). We just need to get more girls involved so we have more to choose from."
The Americans opened these games a 2-1 loss to Canada wrapping up pool play. "This was really a gold-medal preparation for us because they're a darn good team, and we had to be ready to play," U.S. coach Robb Stauber said of Finland.
The Americans wasted no time getting on the board. Captain Meghan Duggan found Marvin alone in the slot, and she beat Raty stick-side for the easy goal just 2:25 into the game.
Finland lost defenseman when she had to be helped off the ice and to the locker room after a knee-on-knee collision with Duggan. She was knocked off balance before crashing face-first into the boards, snapping her head back. When play resumed without a penalty, some fans booed. Savolainen returned in the second period.
Stauber said the referee immediately came over and said it was a collision. Duggan said she was really happy Savolainen got up and that any decision about a potential suspension was out of her control.
"There's been some other plays that haven't been put into question, and so I can't imagine that there would be any disciplinary action just based on other things that have been let go," Duggan said.
Cameranesi put the United States up 2-0 with 1:22 left in the period, taking the puck away from Susanna Tapani and skating into the left circle before beating Raty's blocker with a wrist shot top shelf.
Lamoureux-Davidson's slap shot from the left circle came with 2 seconds left on the 5-on-3 at 13:21 of the second period, and Knight got her first goal of this tournament by redirecting a shot from Sidney Morin with 5 seconds left on the man advantage for the 4-0 lead. Cameranesi padded the lead as she scored from the slot over Raty's glove off a pass from Hannah Brandt.
"We're super excited to be in this position again," Lamoureux-Davidson said. "We worked four years to put ourselves in position to compete for a gold medal and we'll enjoy this for a little bit, but we know that this isn't what we came here for. We're ready to go to battle in a couple days."