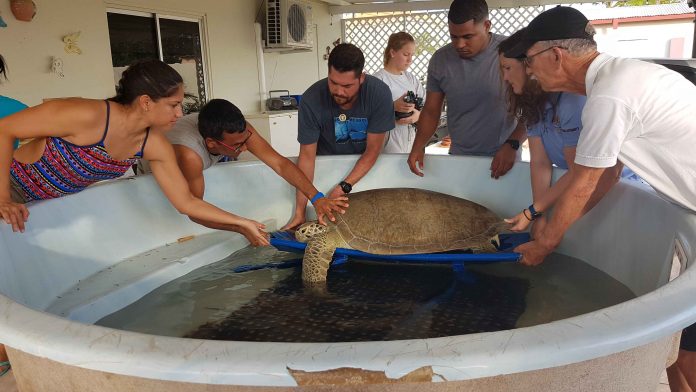 On October 7th, 2020 Turtugaruba Foundation received a call from Ocean Faith Watersports: they came across a turtle in a critical condition and they brought the animal to Palm Beach. Edith and Richard van der Wal of Turtugaruba Foundation immediately rushed to the location to assist the turtle. It was a big white turtle in a very bad condition. The poor thing had a big tumor and some smaller tumors on its front flipper.
Apart from this the turtle seemed blown up and was not able to dive under water because she had too much air in her body. Knowing that the main food of the white turtle is the seaweed which grows on the bottom of the ocean, it could turn fatal since the turtle was not able to feed herself.
A group of dedicated volunteers consisting of the staff at the Veterinary Clinic Wayaca, Shjunam Carolina and family, Turtugaruba Foundation and Aruba National Park FPNA, gave their total support to rehabilitate the turtle which they named Shelly-Ann. At the beginning Shelly-Ann wouldn't eat and was fed through tubes. Her condition started to pick up and three weeks later veterinary Stephany Wever was able to remove the tumors successfully in a surgery that lasted two hours.
Also her diving roble had been solved. This was tested by placing her in a floatable pool in the ocean. It took four volunteers to transport Shelly-Ann on a stretcher to the ocean. Day by day Shelly-Ann is diving better. She is eating by herself which is a good sign and the wound on her flipper is healing rapidly.
After exactly four weeks Shelly-Ann was transported for the last time on the stretcher to the beach. Now she is all on her own. She is not used to walking, perhaps only once she did travel on sand but that was 25 years ago when she came out of her nest. It was so amazing to see how slowly Shelly-Ann moved towards the ocean, swam and took a dive under water. Shelly-Ann received a flipper tag with number WC13666. If anyone ever sees her in the ocean please report this to to Turtugaruba Foundation at Turtle Hotline +297 592-9393.