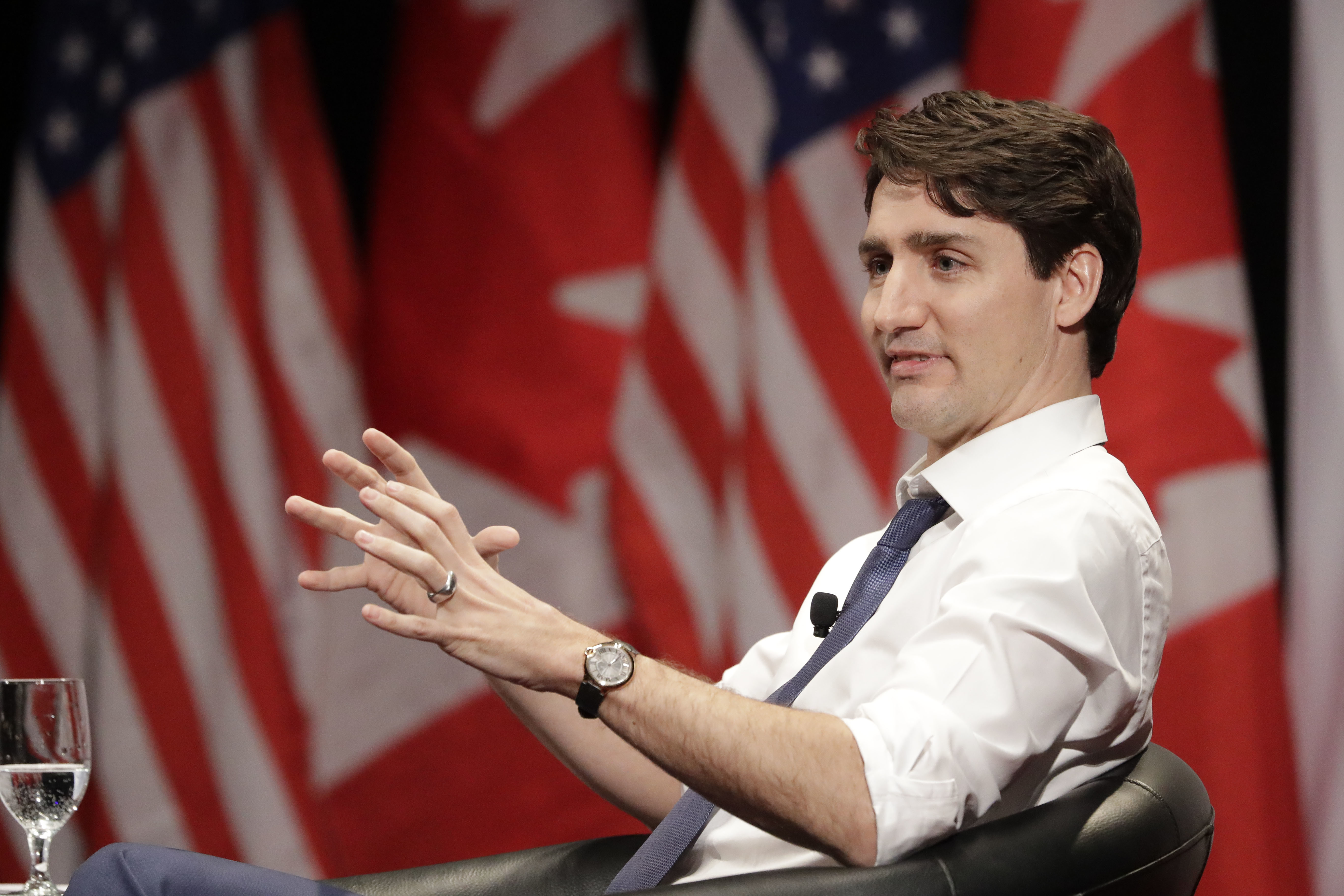 By JULIET WILLIAMS
Associated Press
SAN FRANCISCO (AP) — Canadian Prime Minister Justin Trudeau brings what some call his "maple charm offensive" to San Francisco on Thursday with a dual agenda: Pitch Canada as a destination for American tech firms amid increasing unease over U.S. immigration policy and remind California of its long trade relationship with the country, despite President Donald Trump's threat to bow out of NAFTA.
The heated debate over immigration since Trump's election has provided a clear opening for Canada to pitch itself to Silicon Valley. As American employers worry about access to foreign workers, Canada is offering a two-week fast-track employment permit for certain workers, dubbed the "global skills strategy visa."
Government-sponsored billboards in Silicon Valley pitch: "H1-B Problems? Pivot to Canada." Recruiters from cities in Canada attend Canadian university alumni events in the valley, urging graduates to come home "to your next career move in the Great White North."
There are also hundreds, maybe thousands — no one can say for sure — of Canadians in the tech industry in Northern California, many of them on visas made possible through the 24-year-old North American Free Trade Agreement.
Trump called NAFTA a job-killing "disaster" on the campaign trail and has threatened to withdraw from it if he can't get what he wants.
"Without the NAFTA, those (jobs) go away. That could cause immediate disruption for the tech community" on both sides of the border, said Daniel Ujczo, an international trade lawyer based in Columbus, Ohio, who has been part of the NAFTA talks, now in their sixth round.
"It's unfortunately not an area that is up for discussion. Canada and Mexico keep raising worker mobility issues, but the U.S. won't discuss it," he said.
Trudeau is meeting Thursday with eBay CEO Devin Wenig, Salesforce CEO Marc Benioff and Amazon Chief Executive Jeff Bezos. Salesforce, which provides online software for business, announced Thursday it will invest another $2 billion in its Canadian operations. Trudeau's meeting with Bezos comes just weeks after Toronto, which has created a government-sponsored innovation hub for tech companies, was among the cities that made the shortlist for Amazon's second headquarters.
The San Francisco Bay Area has become increasingly important to the Canadian government, said Rana Sarkar, the consul general of Canada in San Francisco. He said it fits with the "innovation strategy" the Trudeau government has promoted since its election in 2015.
"It's the global epicenter for many of these revolutions. We need to be here both offensively to ensure that we're telling our story. … And we're also here defensively to ensure that we're here at the table when the decisions about the next economy are made," Sarkar said.
Trudeau's stop in San Francisco also highlights the already strong ties between Canada and California, particularly in research, academia and technology. While much of the attention on the trade pact has focused on physical commodities such as vehicle manufacturing, dairy and timber, skilled workers have also become increasingly mobile between the three countries.
Google built its latest DeepMind artificial intelligence facility at the University of Alberta in Edmonton, Canada, after several of its graduates came to work on the project.
"There is this coda of strong infrastructure, openness, a real commitment to diversity, all of the funding and infrastructure requirements that are required for companies to succeed," in Canada, Sarkar said.
Still, the next round of NAFTA talks in Mexico later this month loom over Trudeau's visit.
The lengthy talks have increased the political pressure and the rhetoric in Canada, where the stakes over NAFTA are high.
"Canada has over the recent weeks become more aggressive with the United States," Ujczo said. "Trudeau said 'We're not going to take any old NAFTA deal, so it better be good.' … It's good politics in Canada to take on Trump."
Trudeau will meet with Gov. Jerry Brown and Lt. Gov. Gavin Newsom, both Democrats, on Friday before he travels to Southern California to deliver a speech at the Reagan Library.
The location is a symbolic choice, referring to the longstanding trade relationship between the U.S. and Canada. In 1988, President Ronald Reagan and Prime Minister Brian Mulroney signed the first free trade agreement — a precursor to NAFTA — and enjoyed a warm relationship.