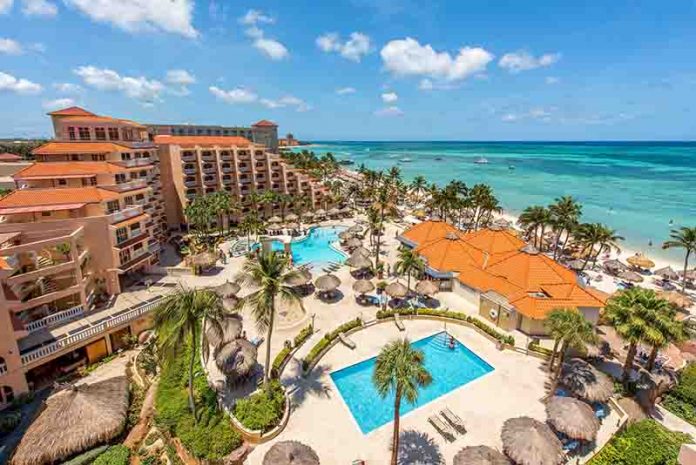 Playa Linda Beach Resort's ability to deliver an outstanding vacation experience, even during the height of unusual times, has been borne out in occupancy that is now very close to pre-pandemic levels. The momentum of its unstoppable hospitality has been driven by an equal measure of new ideas and an adherence to well-established core values. At the heart of the popular timeshare's success has been teamwork, and the sense of family it fosters among owners, guests as well as employees.
"Even during the most uncertain times, we pivoted to make the most of unexpected downtime. We used the opportunity to speed up existing renovation plans as well as launch new initiatives and resort projects with an eye on fortifying our position as a top choice for a safe, unforgettable Aruba stay," comments General Manager Peter van Grinsven. "Our team of employees was essential to the effort. We worked to keep everyone involved, on the job and focused on the end goal of offering our best."
The results have been undeniable, not only in the speed at which Playa Linda has regained its near normal occupancy rate, but also in being able to retain all of its amenities as well as debut additional options such as the brand new Fisherman's Hut restaurant. Beautification efforts were realized with even more upgrades to the common areas, including newly renovated beachside bathrooms, construction of an additional poolside Jacuzzi and landscaping enhanced throughout the resort property. Playa Linda was also able to complete the full renovation of all its spacious suites. At the same time, the resort put extra emphasis on maintaining new health and safety protocols, establishing an on-property testing center for guests as well as in providing additional support to employees in protecting their health and promoting vaccinations. At present, nearly 82% of Playa Linda employees are fully vaccinated.
"We always receive glowing commentary from guests about the friendliness and high level of service they receive from Playa Linda employees. We don't take our employees' dedication to the job for granted, and endeavor to show equal commitment to our team members," explains the General Manager: "We kept our full staff in place, both employees as well as contractors, at full pay and without using government wage subsidies, throughout the pandemic circumstances. Management and Co-op Board, and with the support of our membership, made it our priority to make sure we brought everyone through the difficult times and back to our sought after return to normalcy."
It is been no small feat, but Playa Linda, strengthened by its 38-year history, graced by an undeniably enviable Palm Beach location and with its loyal base of fans among both guests and employees, has certainly earned its rosy outlook for the future. The recent launch of a brand-new website of playalinda.com further touts the many aspects of what makes this resort truly special, within the already special destination of Aruba.
"We are grateful for everyone who holds a connection to the Playa Linda, lucky for our circumstances and ready to get back to simply doing what we do best," concludes the general manager.
The popular timeshare of Playa Linda Beach Resort is welcoming back owners and guests to its prime Palm Beach location with greater resort offerings and improved aesthetic appeal to better maximize the Aruba vacation experience. All its efforts are right on track in adhering to its ultimate goal of exceptional vacation experiences and effortless enjoyment of outstanding resort stays.
Playa Linda Beach Resort Aruba sits beachside on world famous Palm Beach, and at the center of the island's best selection of dining, shopping and activity options. It's 215 spacious suites — featuring nine different suite categories, each with fully-equipped kitchens – and resort amenities including on-property laundry facilities, two pools, two Jacuzzis, concierge services, daily activity program and varied dining and shopping options, create an upscale, community-centered environment for families, couples and friend groups seeking Aruba hospitality at its finest.