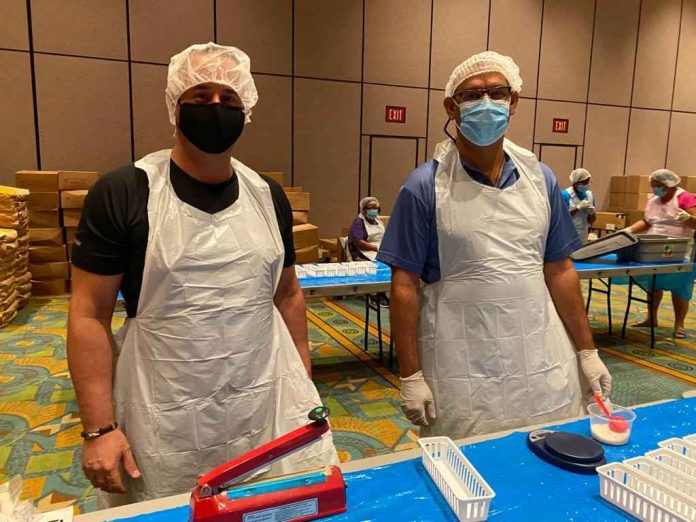 This holiday season, Hilton Aruba is spreading its love for the community with a unique fund-raising initiative. Hilton Aruba Caribbean Resort & Casino is embarking on a mission of love by encouraging guests and colleague to help build a poinsettia holiday tree in its lobby, as a fund raiser for Fundacion Pa Nos Comunidad.
This year, instead of the traditional holiday tree as the focal décor point for its lobby during the holiday season, the resort came up with a creative fund-raising idea, involving its community, uniting locals and visitors for a good cause. Over the past months, resort Team Members have been volunteering with the local food bank, managed by Fundacion Pa Nos Comunidad (FPNC). They jointly invested an excess of 5,800 volunteer hours at Club Kibrahacha, the Food Bank headquarters.
FPNC's mission is to fight and end poverty, emotional distress and social exclusion on the island. Prior to the pandemic, the food bank supported approximately 200 Aruban families per month with food baskets. At this time, the food bank is supporting more than 6,000 families with relief packages.
This colossal food drive, wouldn't have been possible without the financial support of generous individuals and organizations. Visitors who would like to help support the island's food bank with food donations, are asked to visit the resort front desk to purchase a poinsettia for $25. The poinsettia will be added to the lobby's tree display where each individual flower will become part of the greater, common good. Hilton Aruba Caribbean Resort & Casino will be purchasing food with 100% of the funds collected, and donating the food to the food bank.