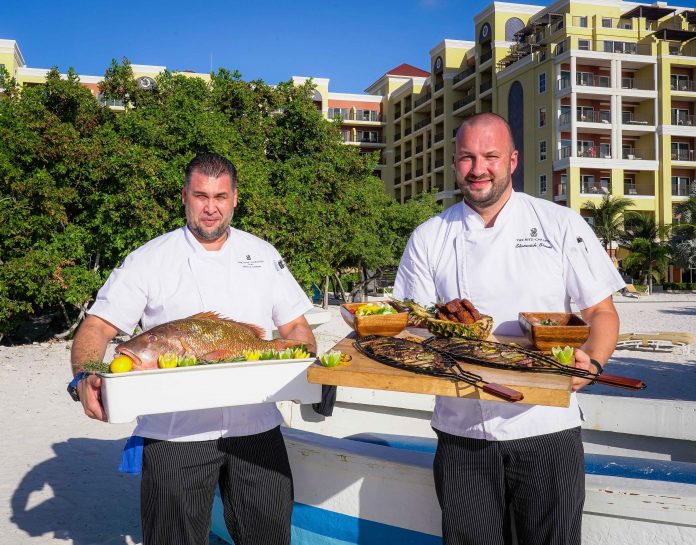 Paradise is a place where you encounter unforgettable experiences. From a culinary perspective, The Ritz-Carlton, Aruba is your only choice. The brand's culture is oriented towards the guests' experience and supporting local community at the same time. "At The Ritz-Carlton the genuine care and comfort of our guests is our highest mission and we need to anticipate and fulfill their unexpressed wishes and needs. We focus on that once -in- a -lifetime luxury experience," states Executive Chef Rafael Lopez Aliaga.
Lopez Aliaga has been working for the Ritz-Carlton company for fourteen years and the last four years he has been in Aruba. The Peruvian chef is clear about it: "We call our employees ladies and gentlemen because only when you take good care of your people can they genuinely care for the guests. And we do. We understand what our guests are looking for and we need to be one step ahead and make a personal connection. Knowing their name and remembering their preferences is what elevates their experience and gives our guests that 'home away from home' sensation."
Lopez Aliaga together with Executive Sous Chef, Stanwick Bloem, oversee the entire culinary department "Our goal is to create the best food experience so that our guests come back every time" says Bloem. The attention for detail at The Ritz-Carlton, Aruba is exceptional; children are invited into the kitchen to help bake pancakes, the complete staff is intensely trained on allergens and wherever you walk you are greeted with a sincere smile and with a 'Good Day'. This makes you feel very special and lifts up your mood.
Join us on the culinary voyage to paradise:
Rung 1
BLT Steak, excelling in steaks
Aruban Mitchell Pereira is the Chef de Cuisine of BLT Steak. "We are a modern steakhouse with a menu that offers the best steaks on the island and a weekly menu that appears on our Blackboard to provide guests with the choice to try something different." He is extremely happy that The Ritz-Carlton, Aruba strives to employ as many locals as possible. "I am a young, local chef, ambitious to work with local farmers and fishermen. We offer delicious local lettuce and mouthwatering Aruban cheeses. With us, you get the highest quality with a local touch." When it comes to steaks, his personal favorite is the Dry Aged Kansas City Steak. However, the American Wagyu and Australian Wagyu are succulent as well. For seafood lovers BLT Steak offers East and West coast oysters, caviar, king crab, lobsters and much more. The Blackboard menu of this week invites you to savior a wonderful Steak tartare, 12oz. Black Angus rib eye, 7oz. Caribbean Seabass, Jalapeño Potato, and a delicious Apple Crumble.
Rung 2
Madero Pool & Beach Grill, whole fish experience
The Ritz-Carlton's philosophy to support the local community is exemplified by their partnership with local fishermen. The impression of travelers of the Caribbean is the white-sandy beaches, waving palm trees and fresh, grilled fish from the sea to their plate; and that is exactly what Madero Pool & Beach Grill offers. "Sharing is caring, families love that," says Bloem. Therefore the Whole Fish Experience offers a head-to-tail fresh catch of the day, grilled to perfection, and served for two people in its entirety to enjoy. "Of course the fish is deboned yet still presented with head and tail and accompanied by local sides like sweet plantain. Usually, we serve a delicious Red Snapper because this fish has very nice white meat, but it may vary depending on the catch and season." Tropical delight to the extreme we would say because Madero Pool & Beach Grill represents the sea, the white beach and grilled fish as a tasty gift of happiness.
Rung 3
Casa Nonna New York
The name means 'Grandmother's House' in Italian. There are only two of them: one in the heart of New York City's Theater District, and the other one is on Aruba. In case you would like to taste what real Italian food with a New York twist is all about, you must come here. The menu is a culmination of traditional Roman and Tuscan fare, highlighted by fresh, local and seasonal ingredients. From salami, cheese and antipasti platters, to house-made pastas, the menu is available á la carte and family style, overflowing with options ideal for sharing. Andiamo a mangiare!
Rung 4
Divi Sushi Bar & Lounge, dushi Sushi
The Ritz-Carlton, Aruba stands out in many aspects, not only with its captivating dishes, but also in creating unforgettable experiences. The resort encompasses the values and philosophy on which they exercise an un-wavering commitment to service. Now, there are many corners in the hotel that can trigger your senses, but there is one place that you just cannot miss: the Divi Sushi Bar & Lounge. At this contemporary bar you will find the finest sushi, ceviche and poke bowls. Pick up your chopsticks and get ready to indulge.
Rung 5
Solanio, strong start
The ultimate start of your day in paradise starts with a breakfast buffet at Solanio. The Ritz-Carlton, Aruba takes food safety and guest safety very seriously and adheres to all the necessary protocols.
Lopez Aliaga is delighted to serve the best of the best prepared by amazing talent. "As The Ritz- Carlton, we feel that it is our responsibility to enliven the Aruban culture. My goal is to have our kitchen run by locals combined with international talent. It would be my utmost pride to watch the team grow and share the Aruban culture and knowledge with other Ritz-Carlton's around the world.