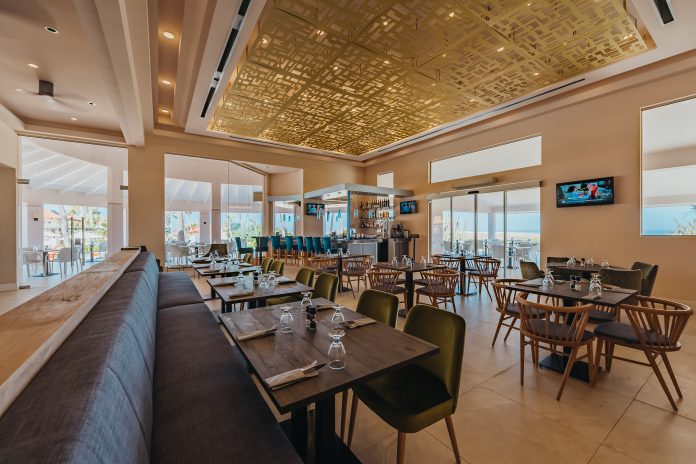 The wave of …… Caribbean, European and American flavors. Delight in fresh cuisine where you can be sure to dine with the best panorama of the island. Nestled between the golf greens, the blue ocean and Tierra del Sol's resort pool, you are in for a successful date, family gathering, work meeting ….just about any occasion. That is the great thing about the newly re-opened restaurant at Tierra del Sol: it is for everyone and every event!
They call it Aruba's first "Premium Casual Dining" experience. It does do right to that concept but there is so much more to it. The restaurant at Tierra del Sol transformed into a place of light, fresh looks, elegant though laid-back setting and the choice between inside and outside dining. Those two areas flow into each other in a natural way. Families with children dine on the big tables, some business men take a quick bite inside and a group of golfers enjoy a meal after their game. It is a fantastic concept that is accessible for all without losing its essence: great food in a stylish interior design.
Inspired by nature the restaurant is letting in the outside while the menu reflects what guests are looking for nowadays: variation, adults & kid's choices, great prices with rapid and friendly service.
12 Appetizers, 3 soups, 8 salad bowls, homemade pastas (5) and pizzas (4), 13 wraps- sandwiches-burgers, 8 entrees (2 sides included), a kids menu and of course sweets make up for an extensive card with something for everyone. A beverage menu offers 11 beers and drafts, homemade sangria, bubbles and wines, premium cocktails and spirits. You can keep coming back and try something else every time.
"Casual dining is hot in the United States now because people do not always want to dress up, sit for hours on a table and get a big check presented at the end. We give an answer to the need of quality food in a modern, cool environment with friendly prices and quick service," says Marketing & Sales Executive, Ghislaine de Windt K. In short: you can't go wrong.
Come and try it out.
TIERRA DEL SOL RESTAURANT RESERVATIONS
Phone: (+297) 586-7800 Ext. 231
www.tierradelsol.com/dining/
Email: restaurant@tierradelsol.com
Mon 10:00am – 4:00pm
Tue – Sat 10:00am – 10:00pm
Sun 11:00am – 3:00pm (Only Brunch)