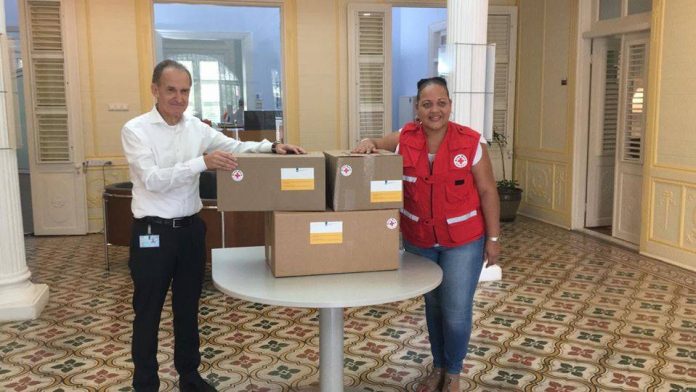 The Representation of the Netherlands in Aruba (VNO) assisted the foodbank (Fundacion pa nos Comunidad) this week with preparing food packages for the people in need.
Because of the COVID-19 crisis the food bank deals with a huge increase in food applications. This is why the Dutch government donated 16 million euros in May of this year to the official food banks of Aruba, Curacao and Sint Maarten. July 10th the Dutch granted another 25, 2 million euros for immediate food aid to the three Caribbean countries within the Dutch Kingdom.
Gianaika van der Biezen, director of Fundacion Pa Nos Comunidad (FPNC), Aruba's official food bank recently informed Aruba Today in an interview: "In the previous years we helped approximately 200 to 250 families monthly, families of different compositions from one up to five or more people. At this moment we have registered 3.200 families who need monthly help and still people keep signing up."
For the implementation of the food distribution The Netherlands work with local organizations. The coordination from The Netherlands is done by the Red Cross. The food aid provided by the Red Cross Aruba is also funded by The Netherlands. Deputy Representative of The Netherlands in Aruba, David Abrahams: "The Netherlands like to offer unconditional support to Aruba in the field of food support. Our contribution is significant but it is still important for the food bank to receive help from different angles. To strengthen our support we decided to literally roll up our sleeves and prepare food packages ourselves with the team of VNO."
About VNO
The Representation of the Netherlands in Aruba, Curacao and St Maarten is an 'outpost' of the Netherlands. It is a single Representation with an office in each of the three countries: the headquarters in Willemstad, Curacao; the office in Oranjestad, Aruba; and the office in Philipsburg, St Maarten. The offices represent the Netherlands in its dealings with the governments of these countries.