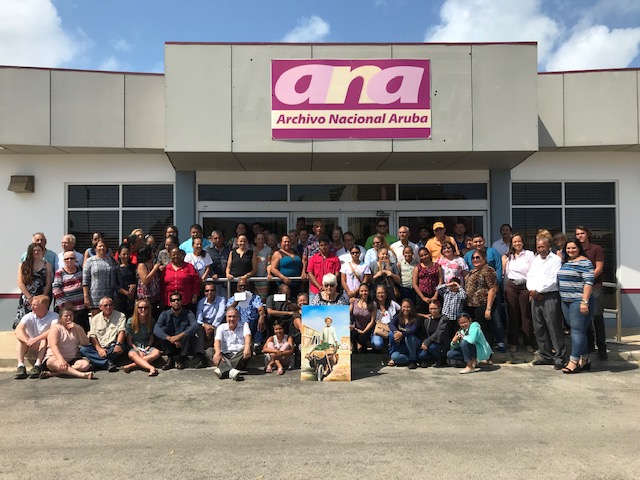 ORANJESTAD —The National Archives of Aruba had the pleasure and honor of receiving a painting of Garibaldi Cephas Helder (r.i.p). Garibaldi a wellknown 'icon' during his years from "Rancho"and "Playa" (areas known in Oranjestad).
Garibaldi Helder, better known as "Ba", and was born on September 18, 1861, at his birth he was still a slave. Two years later, on July 1, 1863, when the slavery was abolished in the entire Dutch territory, Garibaldi was one of the youngest slaves who was freed. Garibaldi was born and raised in the neighborhood of "Rancho" in Oranjestad also reffered to as "Playa". The autor Wim Lampe, describes Garibaldi is his book as a well-known figure in "Playa". Ba Helder was considered as a 'Chief' of Rancho. Ba was also known as a announcer. He went around with a bell in the streets of Oranjestad to anounce the auction of the donkeys, which were confiscated by the police and which the owners did not claim back. He was also a mailman, who delivered the mail in Oranjestad. According to Wim Lampe, he was a person who was reliable and punctual, hereby making sure that the mail was delivered on time to its destiny. The Government paid him a small salary for this work. Ba was also present at the dock when the boats arrived or departed, in this manner he helped out with the transportation of freight etc. on his wheelbarrow.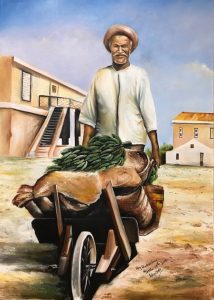 In other documents from the archives we came across a testimony of mr. Dooi Dañe (r.i.p.) who mentions that during the heavy rain season Ba Helder stood on the side of Rooi 'Stream' Manonchi, on the road from Playa to Santa Cruz, especially to carry the women who needed to cross the stream to get on the other side. Ba Helder was known for his tall posture, and according to the notes of mr. Roy Richardson (r.i.p.) on the donated painting, he had a hight of 2.05 meters. From another source it looks like Ba was indeed a tall and strong man, but who was also one of the most appreciated and loved persons in Playa. So much that the dentist mr. Dolfi Oduber (r.i.p.) had a painting of Ba in his house, hereby demonstrating his appreciation for this character. Garibaldi Helder died on April 9, 1939 almost 80 years ago, when a truck hit him while he was taking a nap 'siesta'on a square in the neighborhood of Rancho, where nowadays the Aruba Trading Company is located in Weststraat.
In 2008 during the exhibition "Exposicion Herencia di Sclavitud Aruba" (Exhibition Heritage of the Slaves in Aruba), two paintings of Garibaldi Helder were exibited. These paintings were inspired by the only known picture of Ba. These paintings were from Roy Richardson, who was a greatgrandson of Garibaldi Helder. His last painting that he painted before he died in 2006, he gave to mrs. Ruby Wilson Lyskowinsky (q.e.p.d.) on the March 12, 2006. Ruby is the daughter of Margot Helder Wilson Kelkboom and also granddaughter of Garibaldi Helder, that lived in United States of America.
This painting that was presented today at the Archivo Nacional Aruba was also in the exibition in 2008. The painting returned briefly to Aruba to be part of the exhibition and returned back to the United States to Ruby. One of the wishes of Ruby was that after her death the painting return to Aruba and to be gifted to the people of Aruba. Her last wish became a reality on March 25, 2019. Her daughter, mrs. Deabora Reynolds, and the siblings of Ruby, mr. Ronald Wilson y Ronald Kelkboom, gifted this painting to the director of the National Archives of Aruba, mr. Raymond Hernandez.
Mr. Raymond Hernandez, gave the family present a short summary of who Ba Helder was and also acknowledged that this is the second piece of heritage of the Helder family that is given to the National Archives of Aruba. The first one was a 'freedom letter'that belonged to mrs. Anna Stacia Helder (r.i.p) which received her freedom on June 1, 1863 when the slavery was abolished in the Dutch Kingdom. This is the only freedom letter that Aruba has. Anna Stacia Helder was the aunt of Garibaldi Ba Helder and was a little girl of 11 years when she received her freedom from slavery in Aruba. The 'freedom letter' from Anna Stacia Helder is a gift that mrs. Benita Davelaar-Helder gave to the National Archives of Aruba a few years ago. Mrs. Helder inherited this very valuable document from her father Rafael Helder (1911-1997). Rafael Helder inherited this document from his father Nicasio Helder (1879-1967), a nephew from Anna Stacia Helder.
Archivo Nacional Aruba sends a heartfelt thank you in name of the people of Aruba to the family of mrs. Ruby Lyskowinsky for this nice gesture and also to the entire descendants of Garibaldi Ba Helder for their presence during this special moment.
Archivo Nacional Aruba wants to remind everyone that may have any valuable document and or other type of material such as photos etc. that have a relation with our families and or the history of our island that they are more than welcome to give them or atleast make a digital copy of them for their collection. q