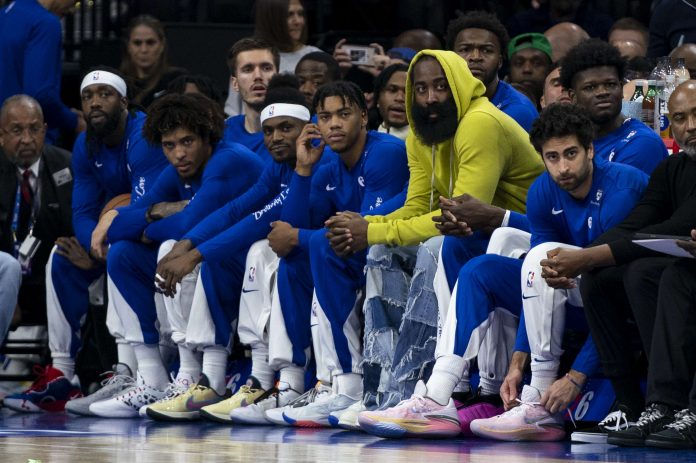 By TIM REYNOLDS
AP Basketball Writer
The Philadelphia 76ers are perhaps an uncalled travel away from being 3-0. They're playing at a high pace, they're moving the ball, they're defending well, and reigning NBA MVP Joel Embiid is off to a monster start.
It's a good beginning by just about any measure.
And that showed it was time for James Harden to play elsewhere.
The next step in the Harden saga came Tuesday, albeit with a slight deviation from what was believed to be the plan. The 76ers said he would be practicing with the team; instead, he was packing for Los Angeles, after getting traded to the Clippers for a slew of players and draft picks.
Harden got what he wanted — a trade to the Clippers. The 76ers got what they needed — rid of a headache.
Win-win.
Somebody had to blink first to solve this Harden issue, and evidently, that was Daryl Morey. He didn't get the player the 76ers were believed to be coveting most from the Clippers, guard Terance Mann, but made the deal anyway. Harden insisted that he wouldn't play again for Philadelphia while Morey was in charge, and having Harden back in practice on Tuesday would have meant that the 76ers were about to see if the 10-time All-Star guard was bluffing. We'll never know.
It's not like Harden had no value; he averaged 21.0 points and a league-best 10.7 assists per game last season. But both sides found a way to make the deal without doing much to their current rotations. Robert Covington is going back to Philadelphia after averaging 23 minutes a game through the first three contests of the year with the Clippers; P.J, Tucker is going to the Clippers after averaging 22 minutes a game so far for the 76ers. Nobody else in the deal was playing that much, and in some cases, hadn't really been playing at all for their now-former teams.
Harden was on the bench with the 76ers on Sunday night, watching in street clothes and seeming to be enjoying the show. Philly is averaging 119 points per game, shooting 50% and has four players — Embiid, Tyrese Maxey, Tobias Harris and Kelly Oubre Jr. — averaging at least 19 points per contest. They didn't look like they've missed Harden. Their lone loss so far was a one-pointer to Milwaukee in Game 1, losing the lead for good with 3:57 left moments after Giannis Antetokounmpo sure looked like he traveled before setting up Damian Lillard for the go-ahead 3-pointer.
"Guys are starting to get it," Embiid said. "Everybody's cutting with a purpose. I like the ball movement. I like guys cutting. The ball's not sticking. We're playing together. And defensively, it's funny — I still don't think we're good enough defensively. I think we can be way better than what we've shown."
The Clippers aren't struggling out of the gates either, off to a 2-1 start entering Tuesday and coming off a blowout win over Victor Wembanyama and the San Antonio Spurs. They are all-in to win right now — Harden rejoins former teammate Russell Westbrook in L.A., plus gets added to a mix that features Kawhi Leonard and Paul George. All four of those players, with a combined 32 All-Star nods between them, either have a player option for next summer or could be free agents.
It sure looks like now-or-never for the Clippers.
The Clippers now finally a chance to see what they can be and if they'll have enough to win it all; FanDuel Sportsbook says they have the fifth-best odds at 13-1, behind Boston, Milwaukee, Denver and Phoenix, which sounds about right. And Philadelphia just gets to move on, without the distraction or feeling forced to wedge Harden into a rotation that has shown great promise in the first week.
Add it all up, and it seems like the smartest of all possible moves for everyone involved.