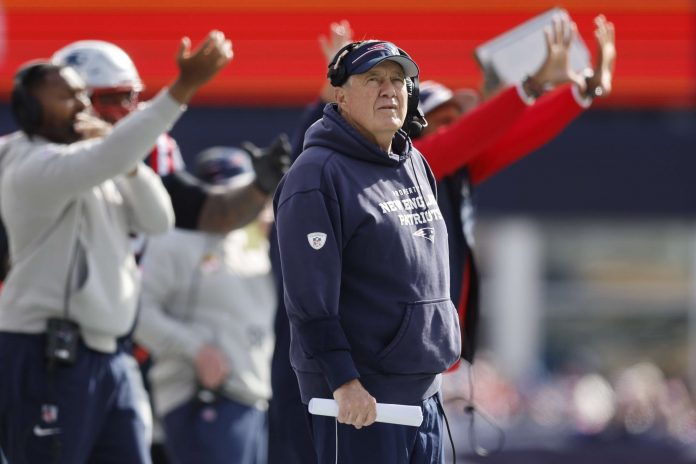 Associated Press
By The Associated Press
FOXBOROUGH, Mass. (AP) — Mac Jones threw a 1-yard touchdown pass to Mike Gesicki with 12 seconds remaining to lift the New England Patriots to a 29-25 win over the Buffalo Bills on Sunday, making Bill Belichick the third coach in NFL history with 300 regular-season victories.
Belichick joins Pro Football Hall of Famers Don Shula (328) and George Halas (318) as the only coaches to reach the milestone.
Jones completed 25 of 30 passes for 272 yards and two touchdowns as the Patriots (2-5) snapped a three-game skid. Ezekiel Elliott rushed for a score and rookie Chad Ryland added three field goals to help the Patriots beat back a second-half rally by Buffalo (4-3), which briefly took the lead late in the fourth quarter.
Josh Allen was 27 of 41 for 265 yards with two TDs ran for a score. He also threw an interception that set up New England's first touchdown. The Bills struggled on third down and scored touchdowns on only two of their four red-zone opportunities.
Allen led two touchdown drives late in the fourth quarter to turn a 22-10 deficit into a 25-10 lead for Buffalo.
Jones began the decisive drive with a short pass to Rhamondre Stevenson that turned into a 34-yard gain. He hit Hunter Harvey for 14 yards on a third-and-8, and the Patriots had a first-and-goal after six plays. A pass-interference penalty set them up at the Buffalo 1, and Jones connected with Gesicki on second down.
RAVENS 38, LIONS 6
BALTIMORE (AP) — Lamar Jackson guided Baltimore to touchdowns on its first four possessions of a dominant first half, and the Ravens trounced Detroit in a matchup of division leaders that was lopsided from the start.
Baltimore (5-2) was up 28-0 before the NFC North-leading Lions (5-2) even managed a first down. It was the most complete performance of the season by the Ravens, and a resurgent Detroit squad fell flat while facing a major test on the road.
Jackson went 21 of 27 for 357 yards and three touchdowns, finishing with a near-perfect passer rating of 155.8. He also ran for a TD. Jackson had great success with deep passes, often finding receivers open in the secondary with plenty of room to run. Baltimore protected Jackson well, and when that started to break down, his scrambling kept plays going.
Jackson opened the scoring with a 7-yard bootleg on fourth-and-1. On his team's next possession, he escaped the pocket to the right and extended the play long enough to find Nelson Agholor for a 12-yard touchdown.
An 11-yard TD pass to Mark Andrews made it 21-0, and then Gus Edwards scored on a 2-yard run. At that point, the Lions had only managed three three-and-outs. Baltimore had a 28-0 lead, a 16-0 edge in first downs and a 325-13 advantage in total yards.
Baltimore has allowed a league-low seven touchdowns this season.
BROWNS 39, COLTS 38
INDIANAPOLIS (AP) — Kareem Hunt scored on a 1-yard touchdown plunge with 15 seconds left, capping an 80-yard touchdown drive that gave Cleveland a win over Indianapolis.
Backup quarterback P.J. Walker used all but 15 seconds of the final 2:35 to rally the Browns for the second consecutive week, this time taking advantage of debatable back-to-back defensive penalties against the Colts, an illegal contact and a defensive pass interference call — both on cornerback Darrell Baker Jr.
The first penalty nullified a fumble recovery by the Colts. The second put the ball at the 1-yard line, setting up Hunt's fourth-down score. Hunt had 10 carries for 31 yards and two TDs.
Walker rallied Cleveland (4-2) for the second straight week. This time it was in relief of Deshaun Watson, who started his first game since Sept. 24 but left in the first quarter after taking a big hit. Watson was cleared after being evaluated for a head injury but did not return to avoid aggravating his already injured right shoulder.
The Colts (3-4) lost their second straight as Gardner Minshew committed four more turnovers — three of which Cleveland turned into scores. Minshew hooked up with Michael Pittman Jr. on a 75-yard TD pass to give the Colts a 38-33 lead, but they couldn't hold it.
Browns defensive end Myles Garrett dominated the game. He had nine tackles, two strip-sacks and blocked a 60-yard field goal attempt.
Cleveland's Dustin Hopkins broke the NFL record by making a field goal of 50 or more yards in a fifth straight game. He converted two 54-yarders and a 58-yarder.
Minshew was 15 of 23 for 305 yards with two touchdowns and an interception. He also ran for a career-high two scores.
GIANTS 14, COMMANDERS 7
EAST RUTHERFORD, N.J. (AP) — Tyrod Taylor threw two second-quarter touchdown passes and New York's defense had six sacks and made a last-minute stand to beat Washington, snapping a four-game skid.
Taylor, starting for the second straight week with Daniel Jones sidelined with a neck injury, hit Darren Waller from 15 yards and added a 32-yard TD pass to Saquon Barkley as New York (2-5) scored its first offensive first-half touchdowns of the season. He finished 18 of 29 for 279 yards.
Dexter Lawrence had two sacks for New York and Kayvon Thibodeaux added 1 1/2. Chase Young had two sacks for the Commanders.
Brian Robinson Jr. scored on a 4-yard run for Washington (3-4) early in the third quarter after Giants veteran Sterling Shepard muffed a punt and the Commanders, who were limited to 46 yards in the first half, recovered at the 21.
The Giants had to make one more stand after Saquon Barkley lost a fumble inside the Washington 5 and the Commanders recovered. Sam Howell (22 of 42 for 249 yards) led Washington to a first-and-10 at the New York 12. His pass on fourth-and-5 to Jahan Dotson was incomplete.
In other NFL games it was ATLANTA 16, TAMPA BAY 13; CHICAGO 30, LAS VEGAS 12