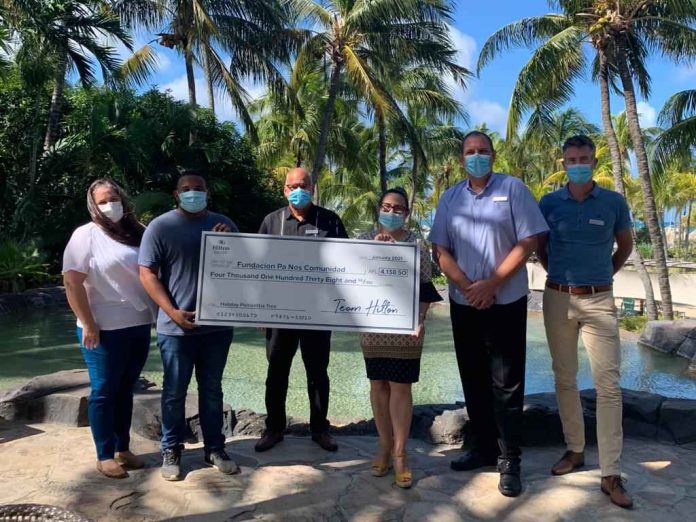 The Hilton Aruba Caribbean Resort & Casino takes great pleasure in reporting that it recently made a donation to FPNC, Fundacion Pa Nos Comunidad, and the island's food bank.
The donation presentation was attended by the resort's Executive Team and FPNC's management team. The donation made to the organization was collected from guests, hotel partners, clients, and employees during the recent holiday season.
In the spirit of the season, the resort chose to forgo the traditional holiday décor in favor of creating a "Tree of Giving," made with poinsettia plants purchased by guests and employees. This Tree of Giving allowed locals and guests alike to unite for a greater cause and contribute directly to Aruba's food bank, and FPNC.
As the check was handed over this week, Gianaika v/d Biezen thanked the resort wholeheartedly. "January has been tough on many families in Aruba," she reported, "as a number of additional local businesses closed and funds received from the Dutch kingdom are dwindling. The donation by the Hilton, will come in handy, and allow FPNC to continue to support 4,200 registered families with food donations and care packages," she stated.
She also praised the resort for the many volunteer hours freely given to her organization as 10 to 12 Hilton employees have been showing up daily at the food bank to help prepare packages distributed to the needy. "The resort has been the backbone of our food bank operation," she said.
Resort Team Members have been volunteering at the food bank, managed by FPNC, at Club Kibrahacha, since September, 2020.
Since founding in 2009, FPNC's mission is to fight and end poverty, emotional distress and social exclusion on the island. Prior to the pandemic, the food bank supported approximately 200 Aruban families per month with food baskets. This number has risen exponentially with the economic and financial downturn, following the pandemic. FPNC's colossal food drive, wouldn't have been possible without the financial support of generous individuals and organizations.
At the informal ceremony the resort handed over 100% of the funds collected, and committed to continuously provide FPNC with the necessary manpower.
The effort was coordinated by members of Hilton's Blue Energy committee, a global cultural initiative led by Hilton.
"FPNC," explains v/d Biezen, "has no paid employees and relies 100% on the good will of the community."
Pictured here, Blue Energy members, management and FPNC representatives at the check presentation.
To donate:
Donate your time, at Club Kibrahacha, strong arms needed to move boxes and a sweet smile to greet clients.
Make a monetary contribution:
Bank Information Aruba Bank 1000; Banco di Caribe 100 000 500 001 800 01; Caribbean Mercantile Bank 60001000; RBC Royal Bank 77000 000 44195025
Tel.: 588 0002 and 562 4205
Info@FPNC.aw, go to the website to register for aid.
Kvk #S1070
Persoonsnummer #5026599.