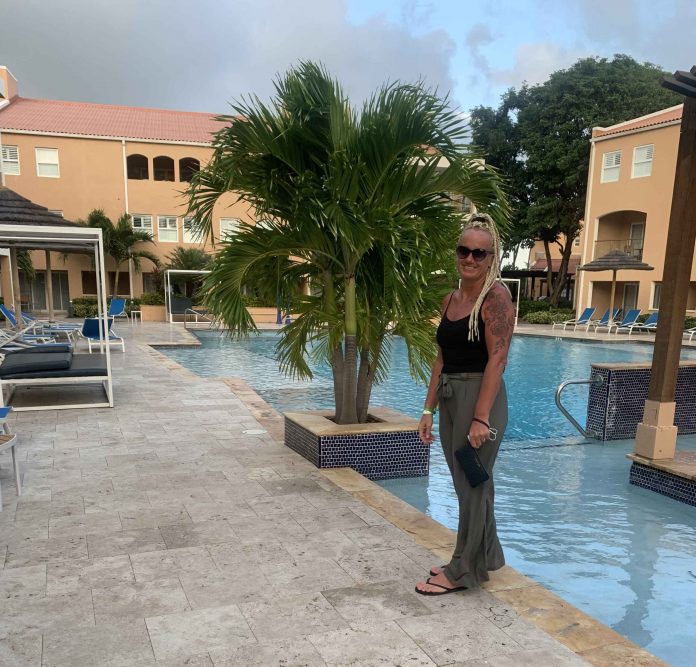 "My name Allison Braswell, six years ago my husband Tom surprised me with a trip to Aruba and ever since then we go every year sometimes more than once a year. I have fell in love with the island as do so many others but for me it's for so many reasons. The beauty of it, the culture, most importantly the locals, other tourists and so many fun things to do. I have met so many people and became friends with them, stayed in contact with them over the years and always visit with them when I come.
I stay at the Tamarijn Hotel and the staff there is so amazing I can't say enough about them. Francis is one of the managers there, well I think he is, lol. He is super nice and waiting staff, bartenders, all the workers there are absolutely amazing, especially Julio. I have stayed at this hotel for all my visits except for one because it was closed. I have become friends with and stay in contact with them through Facebook. They all put a smile on my face and we have had some good laughs together.
Six years long I took the De Palm tours and my bus driver was wonderful, we all talked and he became my first friend I met there. His name is Ryan, we have become so close and his kids became friends with my daughter this past visit. They stayed friends through TikTok. It was my daughter's first visit and she absolutely thought it was beautiful and made friends.
Before this last trip I started to follow these dogs I seen posted one day on the internet. I became very curious about them and had no idea what breed they were. I always liked their pictures so I ended following them and meeting their owner on Facebook. His name is Jeremy, he has a brother Aldwin and we became friends.
They own these beautiful exotic bullies and this past visit he was so kind enough to let me meet, those where the dogs your paper posted Monday. Both men are very kind and will answer anything about the bullies I have asked. I also would say Aldwin is always in the gym mode and will answer any questions I have about fitness. So again I made a couple of new friends this past trip.
Aruba is a beautiful island but it's not just about the beauty it's also about the people. I have learned so much through the people. The Aruba Today newspaper I have been following for the last couple of years. I love waking up and reading the articles and see what is going on. You don't only cover Aruba, but you cover all over the world and I think it's truly amazing we can get information from this paper even here at home.
Thank you for giving me this opportunity to write my story. I could go on and on. Thank you and thanks to Aruba for always welcoming us on your One Happy Island. See you very soon."
Would you also like to be featured in our newspaper?
Complete the sentence: Aruba to me ……. Send your picture with text (including your name and where you are from) to: news@arubatoday.com and we will publish your vacation memory. Isn't that a special way to keep your best moments alive? Please do note: By submitting photos, text or any other materials, you give permission to The Aruba Today Newspaper, Caribbean Speed Printers and any of its affiliated companies to use said materials, as well as names, likeness, etc. for promotional purposes without compensation.
Last but not least: check out our website, Instagram and Facebook page! Thank you for supporting our free newspaper, we strive to make you a happy reader every day again.