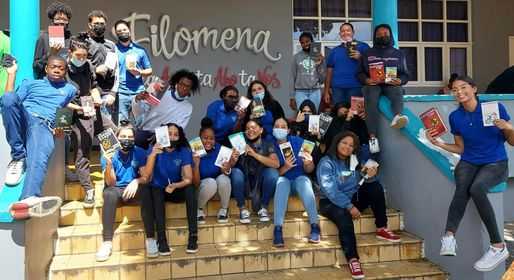 We at Aruba Today love sharing all kinds of happy news with our readers especially when it comes to the generosity of our loving guests. Many visitors not only come to our island for the sun, food and happy times but many of them also bring things for our children in need. This is the case of a lovely family from New Jersey.
Jennifer Koegel is a social worker who first came to Aruba in the mid-nineties with friends and later on returned in 2006. Fifteen years later she continues to visit her beloved island. She even bought a timeshare and has been travelling together with her parents and children. Her daughter Jessica was only 2 months old when she first came to Aruba.
Over the last five years, Koegel has been collecting school supplies for the children. Her daughter Jessica has also been involved in the projects and helps her mother shop and organize the donations. They raised over $1300 and collected items for the orphanage 'Kinderhuis Imeldahoff' in Noord and the Home School in Paradera, a school for children with special needs. The school was able to purchase new chairs for the students and teachers, as well as tables to accommodate new enrollment for the school year. Last year Jessica was able to gather school supplies by the Girl Scout troop 490 from Long Island and also Jessica's Girls Scout troop 97130 from Wood-Ridge, New Jersey, which donated many items such as Barbie's and personal hygiene supplies. Tourists from all over the U.S. contribute to this cause by bringing items in their own luggage and afterwards taken to drop-off locations. The Koegel family is beyond grateful to each and every one who has helped and supported them throughout the years.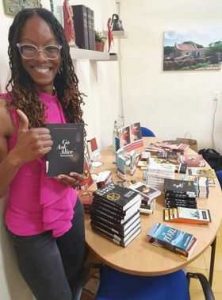 This year they received a special request from Filomena College Mavo Highschool in San Nicolas. The school was busy raising awareness in children from a young age that reading can be fun and adventurous. The school celebrated their 75th anniversary and were gifted 75 books from Koegel and friends.
Here's a feedback sent to Koegel from a teacher at Filomena College:
"I was excited. It felt like that moment when the goodies you ordered on Amazon, have finally arrived. What a coincidence that the books arrived in the week Aruba celebrates, l guess l can call it 'Book Appreciation Week '. By the way, l am Cyria and l teach English to the second, third and fourth year students at Filomena College Mavo. This is a special year for our school as we are celebrating our 75th year of existence all throughout this school year. The slogan of our school is: Filomena ta AMI, ta Abo ta Nos. Loosely translated: Filomena, is Me, is You, it's Us. It was about 2 months ago that we were contacted with the news of this project. Naturally l jumped at the offer. To make a long story short, within less than two months the books that l asked for are now IN my classroom. On behalf of the 4th year students, the Principal Raquel Lampe and the rest of the Filomena staff, we would like You and the Precious tourists to receive our heartfelt thanks for this wonderful donation."
l went back to my classroom where l briefly informed the 4th year students of what had just transpired. Now, l had their attention. " So which books did we get"", one asked. All eyes were on me, as l started mentioning a few titles. The "oohs" and "ahhs" uttered by my enthusiastic students made me smile. However, soon after l wished l could just put them on "MUTE" because l was bombarded with questions all at the same time about what other titles we had received and if they could have it to read etc.. They wanted to make sure they secured their copy before someone else did. I was happy to inform them that they need not worry because there were enough copies of the various titles. Today, one class struck a pose with their books in hand.
Thank you Jennifer and our dear tourists for putting your LOVE for Aruba and the Aruban youth in action in such a powerful way. You are very special to us."
I want to extend again thanks to M Charlotte Wolff-Croes and Erick Wolff who have been instrumental in this historical project. Without them and all the wonderful support from people traveling to Aruba with books, this project would not be possible. We have made tremendous progress in a little bit of time, however we have a long way to go.
Koegel is also collecting books for Maria College, Juliana College, San Antonio College and Abraham de Veer School.
If you want to contribute to this great cause contact Jennifer at her U.S. number 201-704-5415
On behalf of Aruba Today, we would like to thank the Koegel family and friends for this wonderful gesture. Just like them, we know there are many visitors who also do this and we truly appreciate each and every act of kindness towards our residents, especially our children in need. Thank you!