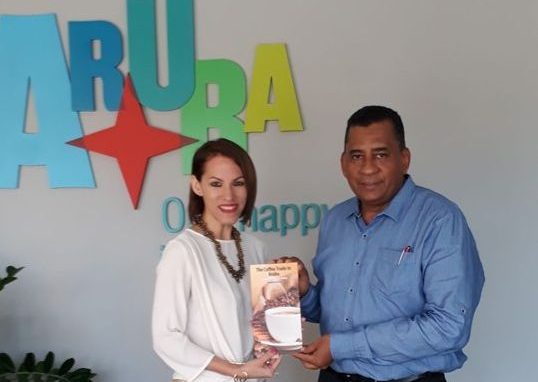 Recently the journalist and author of books Benjamin Romero took the opportunity to give a copy of his newest book 'The coffee trade in Aruba' to the CEO of the Aruba Tourism Authority (A.T.A.) Ronella Tjin Asjoe-Croes. "My commitment to Aruba is writing books about its history, culture and traditions", the author told her. The book was translated from Papiamento to English so that our visitors know this story. 
After the first version of this book was published in December 2016 in less than six months it was completely sold out. A second version was published in mid-2017, which is also now fully sold. With the publication of this book in English, the author hopes that more readers can know this fascinating story that tells how Aruba in the decade of the 60-s and 70-s became one of the main coffee exporters in the world without having plantations of coffee, and without producing a grain of this product.
Although the book is an original translation of his version in Papiamento, in this edition in English, the author includes some new information about the current situation of this business in Aruba, also accompanied by new photographs and tables.
As of today, this book will be available in the Aruba market and an official introduction is being programmed along with an exhibition of objects and illustrative photos that were part of the coffee export business in Aruba. For more information about the book please have a look at the Facebook page E Negoshi di Koffie na Aruba y E Caya di Monche. q