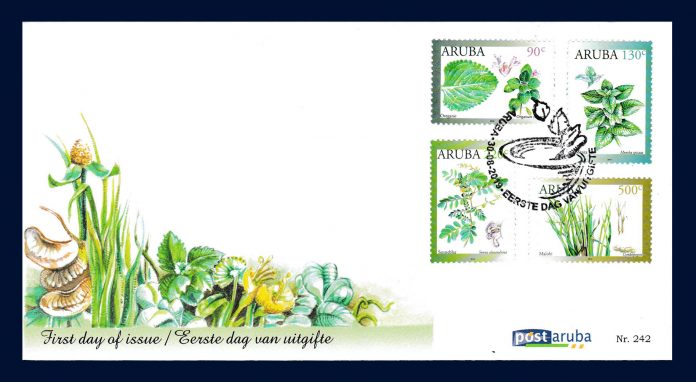 Today, Aruba Post Aruba N.V. will emit a new set of stamps called "Medicinal Plants 2019".
The set consists of four (4) stamps namely 90c, 130c, 220c and 500c, for a total amount of Afl.9,40.
The first-day-envelope costs Afl. 11,15.
The stamps are designed by Mr. Nigel Matthew and are printed by the Johan Enschedé Security Print.
90 cent – Oregano (Origanum vulgare)
It is a culinary and medicinal herb from the mint, or Lamiaceae family.
It adds flavor, has a strong aroma, a warm pungent taste and it may have a number of health benefits.
The name of the herb comes from the Greek words "oros," meaning mountain, and "ganos," meaning joy. It typically grows around 50 cm tall and has purple leaves around 2 to 3 cm in length.
Oregano is used for treating respiratory tract disorders, gastrointestinal (GI) disorders, menstrual cramps, and urinary tract disorders. It is also used as a treatment for a number of skin conditions, such as acne and dandruff.   
 130 cent – Menta (Mentha  spicata)
Menta is a calming and soothing herb to be aid with upset stomach or indigestion.
Some people use spearmint to help alleviate symptoms of nausea, indigestion, gas, headache, fatigue, toothache, cramps, arthritis, toothache, stress, common cold and sore throat.
It is high in antioxidants and also applied topically, to the skin, to help reduce swelling due to nerve or muscle pain.
It helps to speed and ease digestion and supports healthy cholesterol levels.
It can also limit the initiation of chronic inflammation and is also used as flavorings for foods.
220 cent – Senneblar (Senna alexandrina)
The leaves of the senneblar are used in teas to help relieve constipation.
It's also used to help with weight loss.
The fruits are broadly oblong and horned. They are flat and compressed and contain about six seeds.
The entire plant finds use in medicine in the dried and stripped form.
It helps very quickly if something toxic has been consumed and the powerful laxative effects can clear out your colon.
Aside from its laxative properties, it can also help to soothe inflammation for people suffering from hemorrhoids.
500 cent – Malohi (Cymbopogon)
Malohi (Lemongrass) contains substances that are thought to relieve insomnia, stomach – and respiratory disorders, pain and swelling, reduce fever, improve levels of sugar and cholesterol in the blood, stimulate the uterus and menstrual flow, and have antioxidant properties. (It is used as a natural remedy to heal wounds, help prevent infection and it manages type 2 diabetes and promotes healthy skin.
It is extensively used in aromatherapy and helps combat fatigue, anxiety, and body odor.
These stamps will be available at all the Post Office locations, namely in Oranjestad, San Nicolas and Sta. Cruz. Make sure that you have this set in your collection as the stock is limited.
For more information on the "Medicinal Plants 2019" issue, please contact the Philatelic Department at
528-7678 / main office located at J.E. Irausquinplein # 9, Oranjestad or visit their Facebook page: Aruba Stamps and Webpage: postaruba.com.