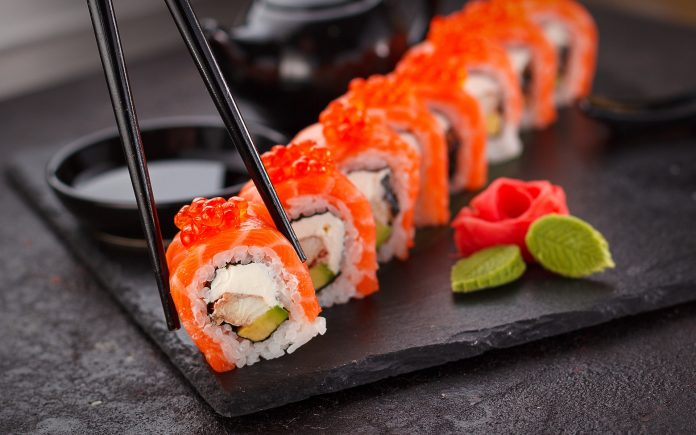 Bring out the Chopsticks,
#SushiMonday is around the corner!
Magic Sushi by Charlie, a leading Sushi bar in Aruba, is joining forces with The Bulldog Aruba to unveil a weekly, 2 Hour (!) All-You-Can-Eat Concept, with as a cherry on top, a never-before-tasted Sushi Roll – The Bulldog Booze Roll (+18). The 1st Edition of this event will take place on Monday, September 5th at The Bulldog Aruba, Located in the beautiful center of Paseo Herencia Mall in Palm Beach, across the street of the Holiday Inn hotel.
For the Monday Night Sushi Night they created an innovative roll to provide our guests with a one-of-a-kind Sushi option to enjoy in our scenic environment. Ideal for both those new to sushi or real connoisseurs, The Bulldog Booze Roll takes the iconic Amsterdam vibe and pairs it with Japanese tradition.
Curious about our Menu?
You can find our Sushi-Menu on the Facebook or Instagram page of @TheBulldogAruba.
"Whether you are new to sushi or a seasoned chopstick veteran, our Sushi Chef serves the delicious, fiery and flavorful experience your tastebuds are searching for"
How does it work?
Each All-You-Can-Eat Sushi Night will have two different time-slots to book,
wherein you can enjoy our outstanding Sushi, Phenomenal Drinks & Spectacular (Live) Shows;
1st Time-Slot: 5.45pm – 7.45pm (Water Show)
2nd Time-Slot: 7.45pm – 9.45pm (Water Show + *Live Dance Show) only a couple spots left!
*Live Shows are depending on the Paseo Herencia Mall Schedule
Reservations are not necessary but highly appreciated
Each item of the all-you-can-eat menu consist 5 pieces of sushi
Max. 2 all-you-can-eat items per round per person
You can order unlimited all-you-can-eat items from our menu for 2 hours
Last order can be made 15 minutes before timeslot ends
Chef Specials and appetizers are not included in the All You Can Eat Sushi Price
new orders can only be placed if the previous items are consumed
Waste of food is not appreciated, order as much as you can eat,
leftovers due to overorder can be charged separately.
See You Then!