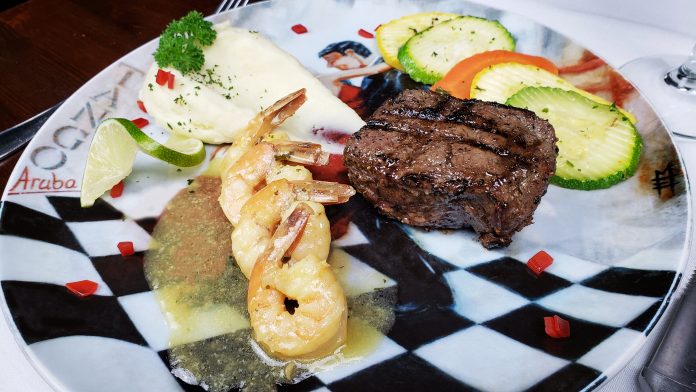 Every month it's a culinary fest at Tango Argentine Grill. Chef Julian and grill master of this cozy steakhouse in Arawak Garden is a champ in preparing delicious specials.
Take the Sea Treasures appetizer for example. It's a combination fresh green shell mussels and escargots, served in an Alfredo sauce and with home baked garlic bread. As main course you have many options: Local Catch of the Day, Pesto Pasta Special, Fish Duo, Surf & Turf and a 22oz Porterhouse steak.
The Fish Duo is a combination of mahi mahi fillet and wahoo fillet served with a loaded baked potato, creole sauce and vegetables. The Surf & Turf is the best of land and sea combined: filet mignon and shrimp served with mashed potatoes and vegetables.
At Tango Argentine Grill the prices are including local tax (BBO) and 15% service charge will be added to your bill. These yummy specials will be available at Tango throughout the month of August. So, make sure you make your reservations on time at tangoaruba.com or call +297 586-8600.Q