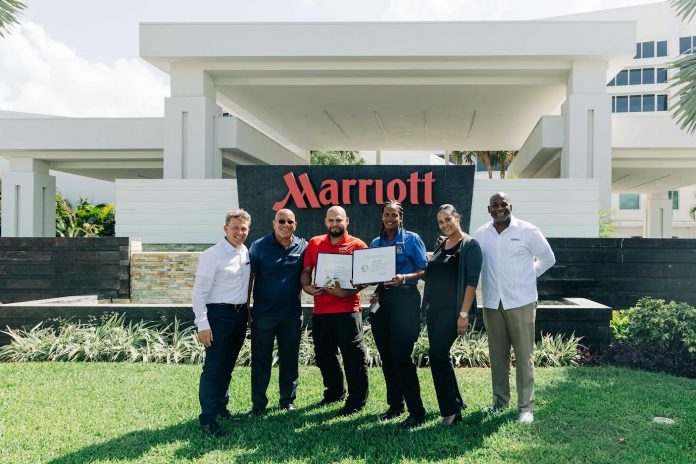 The Aruba Marriott complex congratulates Antonio Ras – Loss Prevention Supervisor and Tisha Powell – Loss Prevention Officer, with their special recognition from Sr. Bill Marriott – President of Marriott International – with respect to saving the life of a guest in March 2022.
This special recognition is identified as the 'Chairman's Citation' award by Marriott International, which is designed to recognize associates who have partaken in saving the life of a guest and to give gratitude to the associate for their act of bravery as well as promote safety and security through Marriott International.
Training, teamwork, and bravery were the characteristics and formula which helped save the life of a guest who was in his room, without a pulse, having suffered from a heart attack. Antonio and Tisha reacted in immediate response to give medical assistance through CPR as well as using the automated external defibrillator (AED) in order to stabilize the guest as they waited for an ambulance to arrive.
Both the action and reaction from Antonio and Tisha were heroic acts and to be admired, which surely Sr. Bill Marriott has recognized through the beautiful form of appreciation by honoring Antonio and Tisha with this special recognition.