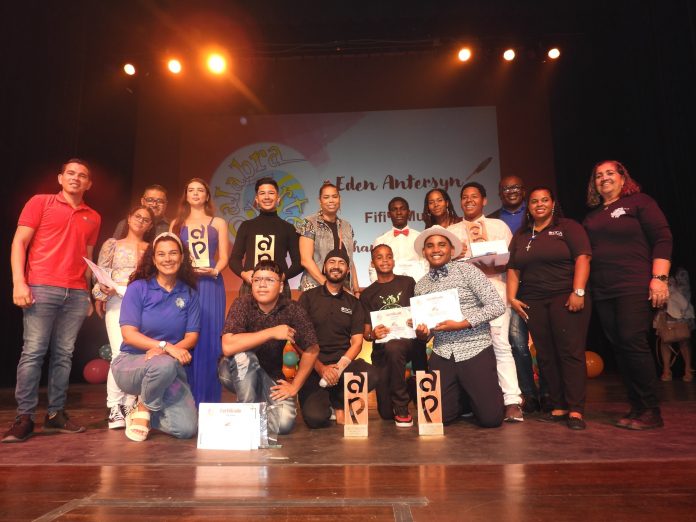 (Oranjestad)—On Sunday, April 16th, the 15th edition of the poetry competition "Arte di Palabra Aruba" (AdP) took place at the Cas di Cultura theater house in down town Oranjestad. AdP is organized every year by the Department of Culture Aruba (DCA) and funded by the Papiamento Corrector Foundation (FCP).
During this competition, 29 students from different secondary schools around the island participated with either a poem or a short story. This year was the also the first time that there has been a "Rap" category, which only had one contestant from EPB high school in the running. Sergio Garcia presented his beautiful original composition titled "Slave to my Freedom."
It should be noted that the participants were allowed to choose the topic of slavery in frame of the commemoration of 160 years since the abolition of slavery throughout the Dutch Kingdom this coming June. Before the competition, participants were given three work shop sessions taught by John Freddy Montoya, so they could work on their presentation, articulation, expression and voice dominance on stage.
Secondary schools that were represented during the competition are as follows: Abraham de Veer School, Ceque College, San Antonio College, Colegio Nigel Matthew, Colegio San Augistin, EPI, EPB San Nicolas and John Wesley College. After the competition, the audience was able to enjoy a dance performance by No Image Dance Group, who are the latest winner of the Gang di Arte 2022 competition, another multidisciplinary project for young people organized by DCA.
After the dance performance, members of the judge panel turned in their decision and MC Rafael Garcia—winner of AdP Aruba multiple times—announced the runner-ups and winner.
This coming July 14th, winners of AdP will be representing Aruba in the interislander competition of Aruba, Bonaire and Curacao (ABC).