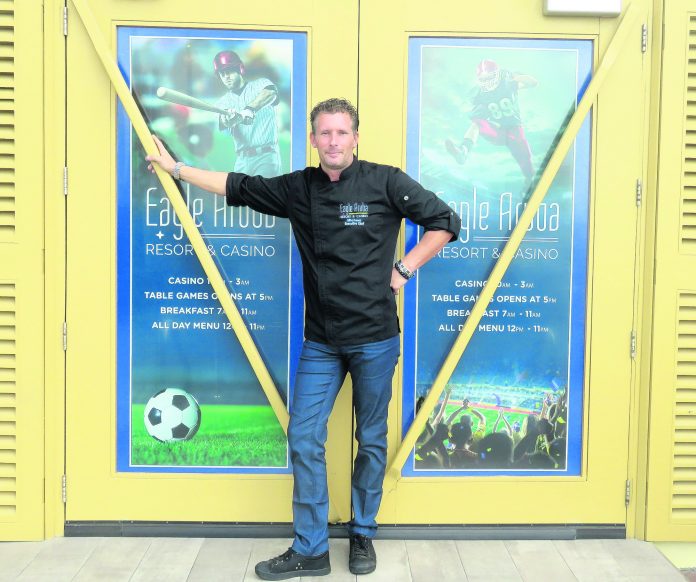 Eagle Aruba Resort & Casino is flying you to the next level with a new executive chef who has already earned his stripes in gastronomy. Michael van Dorst excels in the startup of kitchens as he did for Screaming Eagle restaurant, Windows on Aruba and Chicken & Lobster among others. With over twelve years of experience he invites you all to Double Down Sports Bar & Grill at Eagle Aruba Resort & Casino to taste what all-American tradition is about. This is the place to be on Thursday November 28th to indulge in feasting and football at the same time.
Van Dorst is happy to be at Double Down. "This is a full concept with a down-to-earth menu offering a cozy ambiance with all sports to be watched on the many HD screens and a casino on hand to play a round. I am open to run all kinds of kitchens but I do want to be the best in my game." This Thanksgiving he invites you to taste what a traditional buffet in its essence means. "I am not going to change the traditional menu but I do spice it up a bit with surprising details. Most important characteristic of my way of cooking is to keep it pure and natural. I conquer with honesty." The executive chef together with his team will take you to a rich buffet that can be combined with local dark beers from our island: Hopi Stout and B62. "With this Thanksgiving buffet I combine two worlds, the United States and Aruba."
Expect plenty of US-style partying going down, with American whisky cocktails, American anthems, Beer Bucket Specials, Giveaways (must be present to win) and of course turkey specials, the Double Down Sports bar way. NFL fans will be buzzing to hear that along with this you can watch all the American Football games LIVE on huge HD screens and 4 Giant 9-foot Screens, so you don't have to miss a thing.
Future Fun.
With Van Dorst steering the main kitchen at Eagle Aruba Resort & Casino Double Down will have a lot of future fun for you in the pocket. "This bar is very accessible and cozy and we like to keep the food in line with that while focusing on the flavors. Burgers are homemade and available in a variety from Wagyu beef to Triple Pounders. We work together with local suppliers making fresh ingredients a fact." Herbs, mushrooms, lettuce are all coming straight from Aruban soil which makes you as a customer supporting local businesses while eating here. "We are also going to work together with the lion fish organization to contribute to the reef care." Besides that Van Dorst has Aruban students in his kitchen who he teaches the skills. "I had the opportunity to work with the best chefs in The Netherlands and I see it as my duty to transfer that knowledge to young Arubans." Make your way to Double Down Sports Bar & Grill and decide for yourself whether Van Dorst and his crew will make you feel thankful for coming. We already know they do!
For more information: http://www.eaglearuba.com