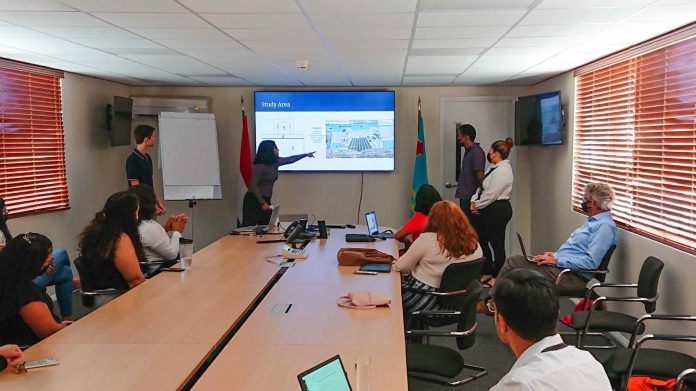 Recently 13 students of the University of Aruba's bachelor program Sustainable Island Solutions (SISSTEM) presented the findings of their first sustainability consultancy to the representatives of Aruba Airport Authority N.V. (AAA). Based on field observations and technical measurements, literature study, document analysis and interviews, the students formulated a consult on energy, water and waste management optimizations that would yield short and long term sustainability effects for the airport. The recommendations emphasize potential reduction of CO2 emissions and social interventions within the island context.
AAA's Director of Health, Safety and Sustainability, Angeline Flemming, complimented the students on their structured approach and on their attention for feasibility and budget.
Eric Mijts and Alba de Agustin of the University of Aruba indicated that the students appreciated the collaboration with AAA in this learning experience and are excited with the potential implementation of their contribution.
Based upon the input from AAA's staff, the students will finalize their final technical reports and management summaries that will be the completion of their consult.