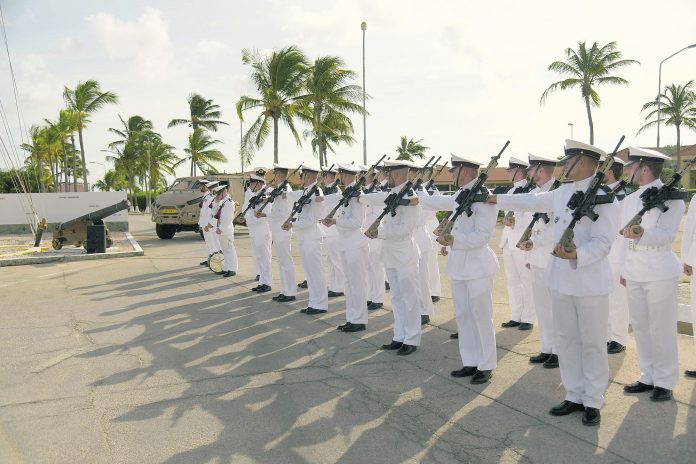 A special swearing-in ceremony took place at the Marine barracks Savaneta last Wednesday. The commander of the barracks, Lieutenant Colonel of the Marines Art van Beekhuizen, was sworn in for the first time in his position as Commander of the Marines barracks Savaneta, which also houses 20 Aruban soldiers (ARUMIL).
Once soldiers have successfully completed their ARUMIL training, they must take the oath in the presence of the governor of Aruba Mr. Alfonso Boekhoudt. In connection with a visit to the Netherlands, the Naval Commander in the Caribbean, Brigadier General of the Marines Peter Jan de Vin, was not present at the ceremony. From Curacao the commander of naval barracks Suffisant, where the ARUMIL does its eleven-month training as a soldier, Major Christ van Dinteren was present at the ceremony. The 20 soldiers recited the oath in front of their colleagues, families and friends.
Just like the soldier, a militiamen stands for loyalty, unity, honor and the ties that the Defense organization has with the Royal Family. The traditional oath or promise consists of three elements: loyalty to the King, obedience to the laws and submission to the discipline of war. By taking the oath, the militiamen expresses their willingness to give the best of themselves and places the group interest above their own interests, with which integrity and dedication are inextricably linked.
The following people are sworn:
Corporal Marine: Figaroa, J.D.I. Hill, G. and Kerpens, C.E.
MARN 1: Angela, J.H., Robert, A.I., Thomas, R.J. and Tromp, P.B.
MARN 2: AR Abreu, F., Bethencourt, A.J., Croes, K.M., Everon, E.E., Everon, N.T., Henriquez, J.M.K.E., Kelly, G.G.H., De Kort, M.R., Lopez, A.A., Martinez Ojeda, L.M., Ramirez Fornez, J.J., Thijsen, R.M. and Tromp, S.J.I.