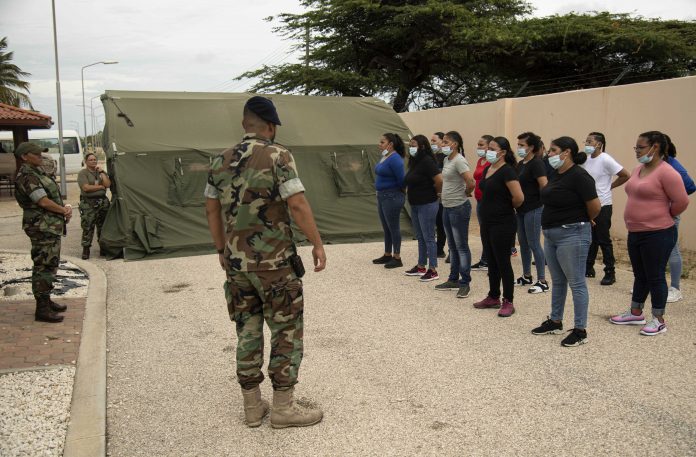 Last Monday, the Social Training Trajectory (SVT) for women started at Marine Barracks Savaneta (Aruba). There are 14 ladies who will receive professional guidance in the coming year from executives of the Aruban Militia (ARUMIL) and social work. The aim of this is to give young people more opportunities on the labor market.
In the coming phase, which will last four months, various military skills will be taught such as drill, ranks and positions, but also map reading. The emphasis is also on, among other things, discipline, cooperation and a sense of responsibility. After this phase, an internship takes place outside the barracks gates, but they will come back once a week to carry out assignments or to evaluate.
Gaining experience
Because it is the first time that women participate, it has been decided to keep the group smaller than usual. In addition, two female instructors have been appointed and trained to provide a familiar learning environment for the students. Minister of Social Affairs and Labour, Mr. Glenbert Croes, wished the women every success in the training. "I actually compare it to a tree that threatens to grow crooked. You can prevent this in time. If you are not there in time to let the young people choose a good path, then such a crooked tree can become. We can really do something for them. The Social Education Program is here to stay."
The SVT is given twice a year and is a collaboration of, among others, the country of Aruba and the Ministry of Defense. In Curaçao, a covenant was recently signed by Prime Minister Gilmar Pisas (also Minister of Justice), Minister Ruthmilda Cecilia-Larmonie of Social Development, Labor and Welfare, Minister Sithree van Heydoorn of Education, Science, Culture and Sport and the Commander of the Navy in the Caribbean, Brigadier General of the Marines Frank Boots. Both men and women can participate in this course.