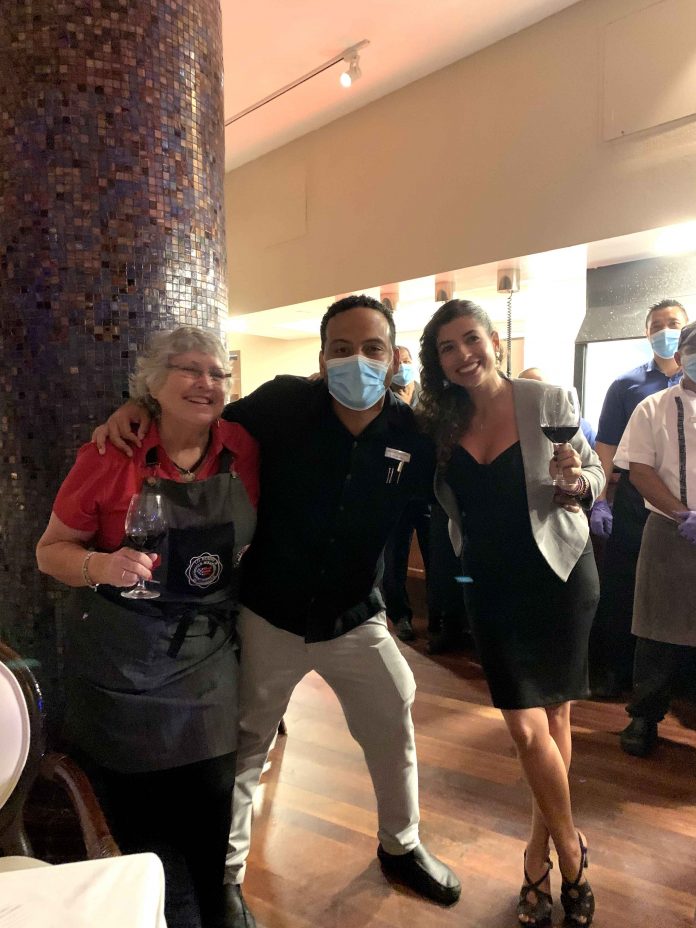 Did you ever heard of a meat scientist? That is a person who holds a degree in the study of meat. Aruba Today met one. Her name is Elizabeth Wunderlich and she is the Caribbean Consultant for both U.S. Pork and Beef Federations. She with local wine specialist Divino together gave meat to an impressive night last Saturday, November 28th at restaurant Sunset Grille at Hilton Aruba Caribbean Resort. Hear why and make sure you are part of the upcoming happening at Sunset Grille where it is always about going one step further.
"Meat science is looking at the tenderness, juiciness and flavor, or in one word palatability of the meat. We stay away from the emotion, observe it purely from science. This night was about learning to know a meats quality from a scientific standpoint," says Wunderlich. Together with Divino's KiumeTjon-A-Tsien they created a mouthwatering learning experience.
The night consisted of three blind meat tastings, starting with a U.S. prime strip and Brazilian strip steak, both New York steaks, paired with a Robert Mondavi Private Select Aged Merlot from California. The second and third tasting were accompanied by a Charles Smith 'Boom Boom' Syrah from Washington State and a Californian Meiomi Pinot Noir. The fourth course was a star with a Hickory Smoked Picanha paired with a Robert Mondavi Oakville Cabernet Sauvignon from Napa Valley. Of course the evening closed with a sweet and tender, Rich Dark Chocolate Soufflé.
Wunderlich: "Three major components of meat were tested by the guests: tenderness, juiciness and flavor, in the U.S. tenderness is the most important, now in other parts of the world it could be the flavor but this night we did it the U.S. way." Every guest received a questionnaire to complete after tasting the meats. These range from topics like the marbling of the meat to the animal's age or maturity to how the animals are fed. It is very interesting to learn the role of the intramuscular fat of the meat keeping in its juice and flavor while we may consider to buy the meat with the less fat. "The marbling keeps in the tenderness. There are pockets of air that give a sensation of tenderness when you bite into it and it lubricates your teeth as the marbling melts. Fat also gives flavor. This is the reason marbling is so important however is the insulation of the protein against heat of cooking."
Wunderlich grew up on a ranch in Florida that is where her passion for meat started. "As a little girl I would get up every Sunday morning with my dad and ride out the horses, count the cows, fix fences…this was my life." She went to University of Texas A&M for her Masters degree in animal science and graduated in meat science at the University of Florida. "I really believe that if you grow up in it you live it."
To stay updated on the future Prime & Dine event this month at Restaurant Sunset Grille call (297) 526-6612, this one will teach you about dry-aging so make sure not to miss it!