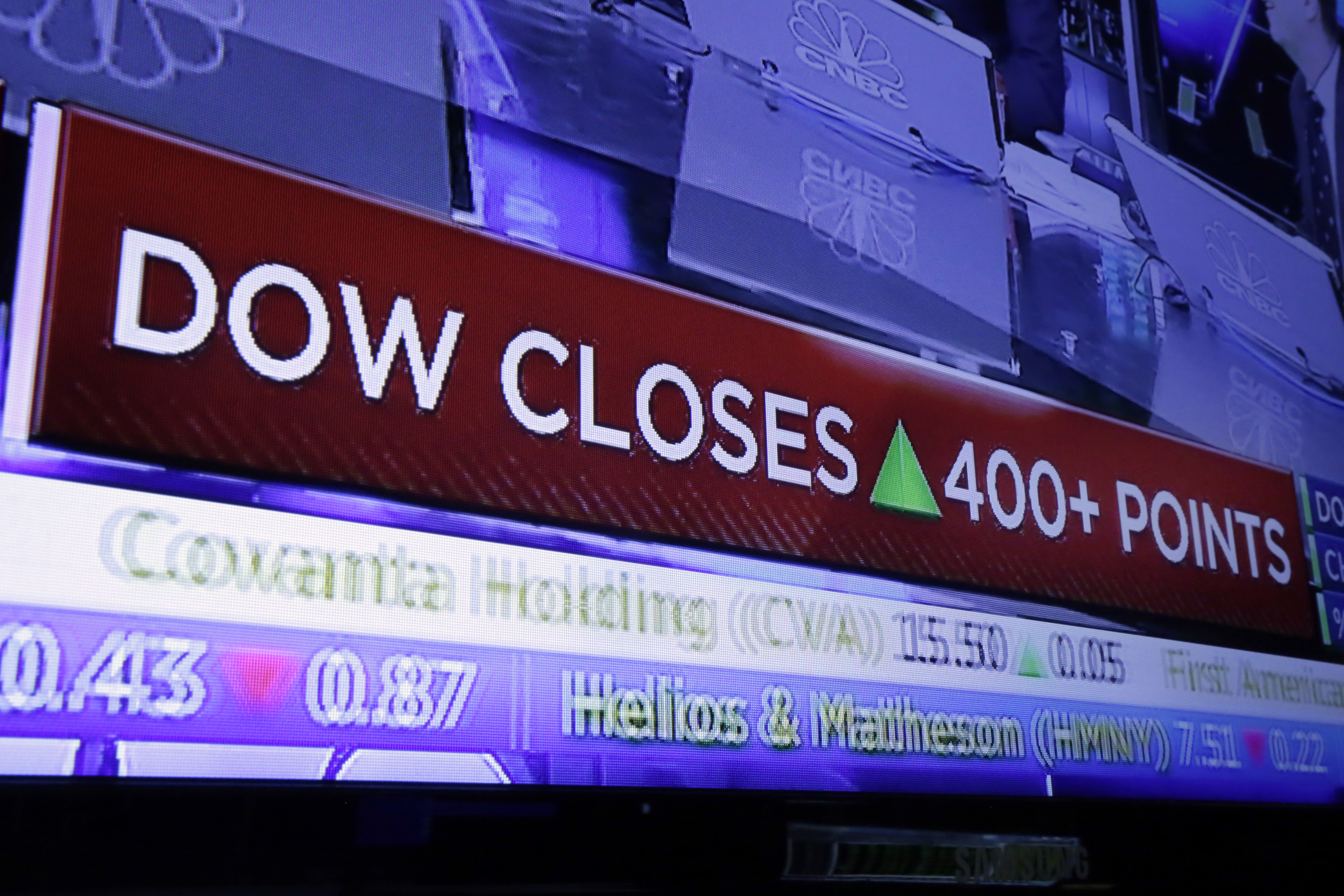 By MARLEY JAY
AP Markets Writer
NEW YORK (AP) — Stocks powered higher Monday, sending the Dow Jones industrial average up 410 points, as the market clawed back more of its massive losses from the previous two weeks. Apple jumped 4 percent and led a rally in technology companies, while industrial companies, banks, and consumer-focused companies like retailers also rose.
Netflix and Amazon surged again as stocks that led the market higher in 2017 recovered more of the ground they lost recently. Energy companies got some relief as oil prices turned higher. All of that helped stocks build on the market's gains from late Friday.
Some market watchers say the recent bout of turbulence may not be over. Jim Paulsen, chief investment strategist for the Leuthold Group, said he thinks stocks and bonds will fall further as investors consider the likelihood that interest rates will keep rising and inflation will increase. Inflation and higher wages can cut into company profits, and higher interest rates slow down economic growth.
"The catalyst behind this bull market up until maybe the last year or so has just been the ability of this economy to grow, even if it's very sluggishly (…) without creating any negative consequences for the financial markets," he said.
Paulsen said the consumer prices report Wednesday or the February employment report due next month could both have major effects on the market.
The Standard & Poor's 500, the benchmark for many index funds, gained 36.45 points, or 1.4 percent, to 2,656. The Dow climbed 410.37 points, or 1.7 percent, to 24,601.27. It had risen as much as 574 earlier, led by big gains for Boeing and Apple.
The Nasdaq composite advanced 107.47 points, or 1.6 percent, to 6,981.96. The Russell 2000 index of smaller-company stocks rose 13.15 points, or 0.9 percent, to 1,490.98.
It took just nine days for stocks to plunge 10 percent from their latest peak, which was reached on January 26. A drop of that size is known on Wall Street as a market "correction." According to LPL Financial, it was the swiftest move from a record high to a correction in the history of the S&P 500. The index rose 1.5 percent Friday but still wound up with its worst weekly loss in more than two years.
Despite the two-day recovery, the S&P 500 is down 7.5 percent from its record high, and investors expect far more volatility in the stock market than they did two weeks ago.
That comes after a remarkably calm year for stocks: there were only eight days in 2017 where the S&P 500 rose or fell at least 1 percent. But it's happened six times in the last seven trading days, and eight times since the market's peak Jan. 26. That includes several drops that were far larger than anything the market endured last year.
Other gainers in the technology industry included Cisco Systems, which rose $1.07, or 2.7 percent, to $40.60. Chipmakers Broadcom and Qualcomm each climbed after CNBC reported that the companies will meet this week to discuss Broadcom's $121 billion offer to buy Qualcomm.
Retailers, apparel makers and other companies that focus on consumers made some of the largest gains, a sign that investors expect shoppers to keep spending and the economy to keep growing.
Benchmark U.S. crude gained 9 cents to $59.29 a barrel in New York. Brent crude, used to price international oils, lost 20 cents to $62.59 a barrel in London.
Oil prices have dropped since reaching long-time highs in late January, when U.S. crude peaked at $66 a barrel. The S&P 500 energy index is down 12.7 percent over the last month.
Defense contractor General Dynamics will spend almost $7 billion to buy internet technology company CSRA. The Trump administration has been pushing defense spending aggressively higher. CSRA climbed $9.57, or 31.1 percent, to $40.39 Monday. General Dynamics lost $2.57, or 1.2 percent, to $209.53.
Twenty-First Century Fox picked up 66 cents, or 1.9 percent, to $36.40 after The Wall Street Journal reported that cable and internet provider Comcast is still interested in buying Fox's entertainment divisions and could make another offer. Disney agreed to buy Fox's movie and television studios and some cable and international TV businesses in December for $52.4 billion.
Comcast fell 3 cents to $38.54 while Disney added 30 cents to $103.39.
Bond prices were little changed. The yield on the 10-year Treasury note stayed at 2.86 percent.
In other energy trading, wholesale gasoline fell 2 cents to $1.68 a gallon. Heating oil fell 2 cents to $1.84 a gallon. Natural gas slid 3 cents to $2.55 per 1,000 cubic feet.
The dollar rose to 108.67 yen from 108.53 yen. The euro rose to $1.2284 from $1.2231.
Gold rose $10.70 to $1,326.40 an ounce. Silver jumped 43 cents, or 2.7 percent, to $16.57 an ounce. Copper added 5 cents, or 1.7 percent, to $3.09 a pound.
Germany's DAX jumped 1.4 percent while the CAC 40 in France and the British FTSE 100 both advanced 1.2 percent.
Hong Kong's Hang Seng lost 0.2 percent and Seoul's Kospi rose 0.9 percent. Markets in Japan were closed for a holiday.