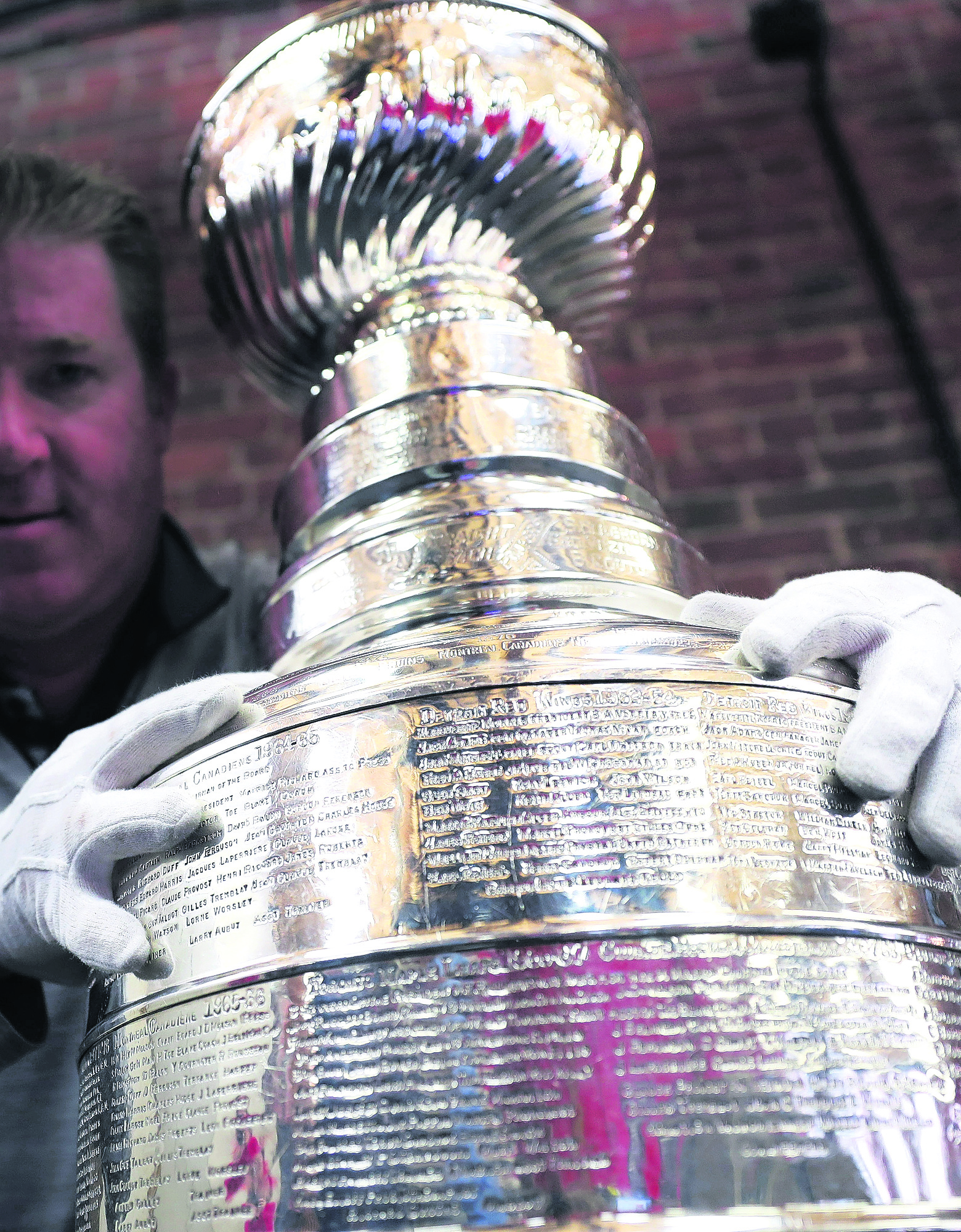 By JIMMY GOLEN
AP Sports Writer
BOSTON (AP) — So long, Gordon Howe. Bye-bye, Robert Hull. Au revoir, M. Richard. Those Hockey Hall of Famers and the rest of the players who won an NHL championship from 1954-65 are being stripped off the Stanley Cup this spring to create room for a new layer of names without making the trophy too big to be skated around the ice by the winning captain or checked on an airplane for its next journey.
"People in Saskatchewan are a little upset Gordie's name is coming off, but that's the tradition,"said Mike Bolt, one of the Hall of Fame staffers assigned to escort the Cup around the world. "It can't get any bigger. … We wouldn't be able to do what we do." Perhaps the most iconic trophy in sports, the Stanley Cup is unique among major prizes because the
NHL passes it from team to team instead of producing a new one for every champion.
It's also the only one that includes the name of every player to win it in each season — though the names come and go. Since it was first donated in 1892 by Lord Stanley, the governor general of Canada, the Cup has grown from a 7-inch-high bowl to a 3-foot trophy more the size of a large wedding cake, with three small layers under the original bowl and five more bands under that that fit about 13 years of champions apiece.
The top one of those bands, honoring much of Toe Blake's Montreal Canadiens dynasty and three of Punch Imlach's four titles in Toronto, will be removed in a matter of weeks. It will be flattened and displayed along with two previously retired rings — covering the 1927-40 and '41-53 championship teams — at the Hall of Fame in Toronto. (In place of the name-by-name listing, teams are engraved on the upper rings). The process will need to be repeated every 13 years, meaning a player's name lasts on the Cup a maximum of 65 years.
"I run into some of the older timers, like from the '70s, even the '80s. They're always like, 'Hey, Mike. How many years have I got left on the Cup?'" Bolt said. "Some guys start doing the math, 'Oh, I won't be around anyway.' But if you win it when you're young, you're going to be around when your name comes off." On tour to promote the start of the NHL playoffs on April 11, Bolt stopped at The Associated Press bureau in Boston this week after visiting a children's hospital and before going to a hockey arena to surprise another group of kids.
He dons white gloves and unsnaps the latches to reveal the Cup in its form-fitting, blue velvet travel sanctuary. The black base is chipped and dinged from years of celebrations by joyous champions. There are also a few misspellings, and one name is crossed out. Still, seeing the trophy remains a thrill for many fans; earning a spot on it is the ultimate goal for every NHL player who has ever laced up a pair of skates. "That's the best part of the job, watching the reaction.
That's one of the things that does not get old," said Bolt, who accompanies the Cup on its travels for the traditional summer tour that allows every player on the winning team to spend a day with it — often in his hometown, no matter where on the globe he grew up. "I've seen grown men cry; they can't believe they are this close to it," Bolt said. "It's like a celebrity. Everybody's always happy when the Cup's around." Players like Gordie Howe, Bobby Hull and Maurice "Rocket" Richard might not have known that their immortality has an expiration date, but modern players realize getting one's name on the Cup isn't forever any more.
"We knew it's going to be there for about 40 years," said Patrice Bergeron, a member of the Boston Bruins' 2011 championship team who is hoping to extend his time on the Cup with another title this year. "It's still pretty special." Brad Marchand, who also won it all in 2011, was consoled by the knowledge that the band with his name will go on permanent display at the Hall of Fame after it is removed. "You can't take away the fact that we won," he said. "We'll still have all the memories."