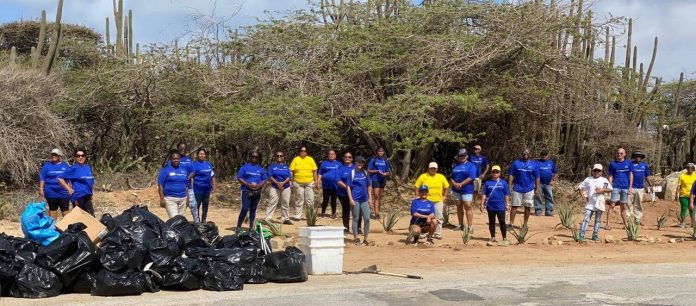 Bucuti & Tara Beach Resort and its team continue with their weekly clean up actions in different areas of the island. Recently they did a make-over of the Hooiberg and apparently that was no unnecessary luxury. About 45 staff members of the resort cleaned out the area and filled a truck with all the waste that was collected.
It certainly was a rewarding job for the employees of the resort to make a difference for this beautiful site of Aruba. They were heartbroken by the amount of waste they encountered. "There was trash all over the place," owner Ewald Biemans said with a sad tone in his voice. "Our efforts lasted for 90 minutes only simply because we were out of disposal bags and the truck was full. It felt quite unsatisfied because there was so much more waste to collect."
Reboot of "Aruba is Mine" is needed
In the beginning of the 80-ies when Aruba was facing a growing population, but on a smaller scale, the island was confronted with the same situation. There was waste everywhere you went. Outside of the fences of houses, on the beaches and other public places. "Our intention with these clean-ups at that time was to create a sense of national pride for our island that is why we called the campaign "Aruba is Mine"," as Biemans explains. "The message of this campaign was spread out through radio and other media channels. We also printed T-shirts with this slogan."
Let's be proud of our island
Despite the efforts of the team to clean up the area as much as possible it would not mean anything if people continue leaving trash behind. Bucuti & Tara Beach Resort appeal to the public to keep public places clean and also ask other local companies to take their community responsibility and clean up areas of Aruba. Let us demonstrate that we are proud of our island. If you are interested in participate as a company, please contact Nathaly Stanley, Sustainability Manager of the resort.