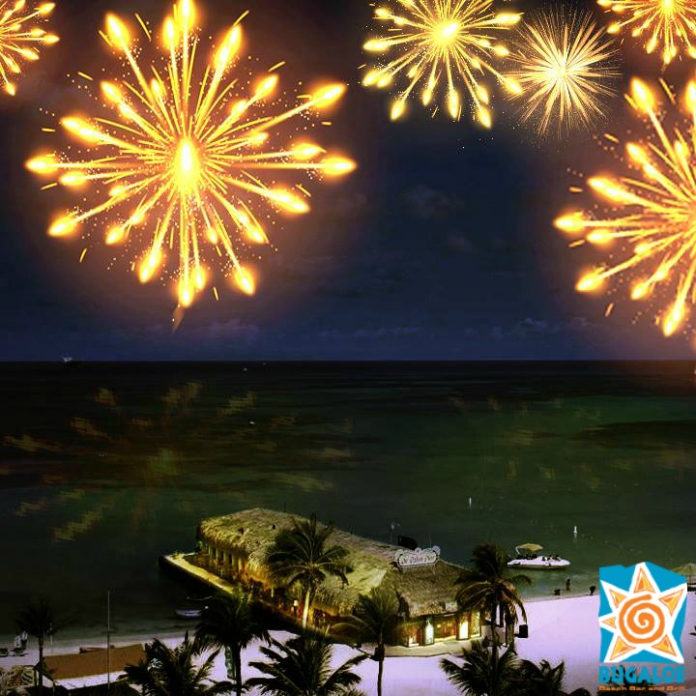 On the lookout for a 'wow' New Year's Eve celebration with the best live music? Get cozy under the stars with your friends and family and start your Golden New Year in Bugaloe style! Get the year off to a good start watching dazzling fireworks, dancing with The Travel Session Band and raising a sparkling toast to a Golden 2020! This is really the best way to say goodbye to 2019 and hello to 2020, making memories with old and new friends. With 2019 around the corner Bugaloe is planning to go out with a Bang!
Enjoy the best 360° view of all the hotels' special firework shows, while The Travel Session Band performs with Steffie & Jeremy live from 10pm, December 31st. Open the New Year with a free champagne toast at midnight while savoring some delicious Dutch oliebollen! Watch the amazing sunset, enjoy the warm ocean breeze, and dance your 2019 cares away with great live entertainment, drink specials, and more! Entrance to Bugaloe is free on New Year's Eve, December 31st, and the dresscode is 'Gold'. A fantastic and GOLDEN night awaits!
On January 1st, Bugaloe will open at 10:30am to give the team some time to recover that morning. Unfortunately, they will not serve breakfast this morning but they will ensure that there are enough tasty drinks! The kitchen will open at 11am for lunch.
Bugaloe is located on the De Palm Pier between the RIU Hotel and the Hilton Resort. For more information, please contact Bugaloe by email at info@bugaloe.com or by calling 00297-586-2233.