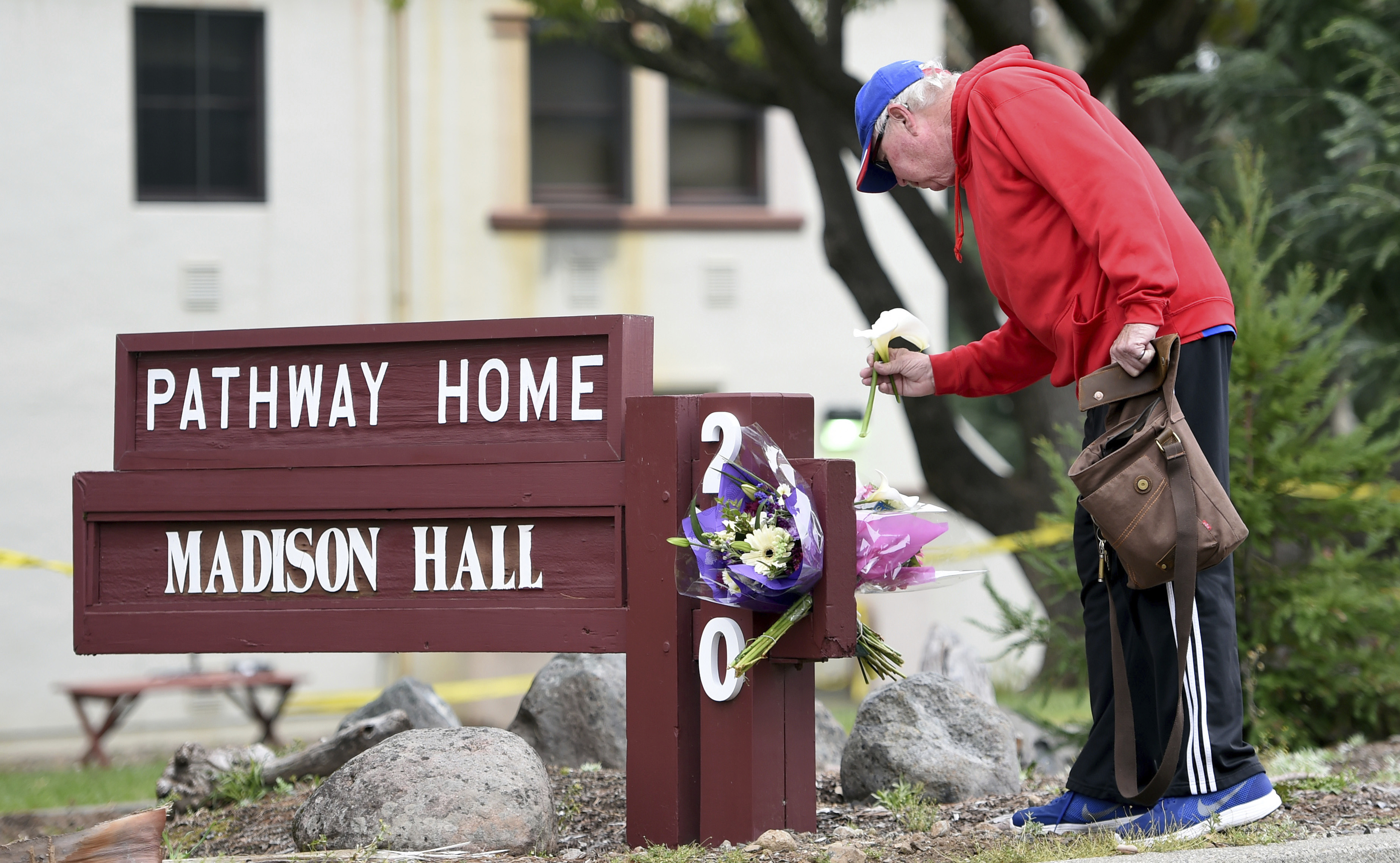 By MICHAEL BALSAMO
Associated Press
When Albert Wong returned from an Army deployment in Afghanistan in 2013, he knew it had affected him. He had trouble adjusting to regular life, couldn't sleep at night and was hyper-vigilant about his surroundings. But when he found a treatment program for veterans of the Iraq and Afghanistan wars who suffer from post-traumatic stress or traumatic brain injuries, he saw it as a way to get help and readjust to civilian life, said Cissy Sherr, who was his legal guardian and raised him for several years as a child. Until he was recently expelled.
On Friday, police said Wong slipped into a going-away party at the program, The Pathway Home, and took three employees hostage. After an hours-long standoff, Wong and the three female workers, one of whom was pregnant, were all found dead. As a child, Wong had always dreamed of joining the Army, said Sherr, who began caring for him when he was 6 after his father died and his mother developed medical issues.
"He had a lot of role models in the Army," Sherr said Saturday in an interview with The Associated Press. "He was patriotic and he wanted to do that forever." Sherr and her husband raised Wong for several years, enrolled him in Catholic school and signed him up
for baseball, basketball and track teams. Together, they traveled to Florida, Hawaii and Boston, where he experienced snow for the first time.
"He was a pretty happy-go-lucky kid," Sherr said. "He always had a smile on his face."
When Wong became a teenager and Sherr and her husband worked full-time, they decided to put him in foster care. He stayed with a foster father in San Francisco who had other teenage boys and he attended high school near San Francisco. An older adopted brother, Tyrone Lampkin, recalled playing hockey and going fishing with Wong when they were kids. They also got into fights.
Wong's outbursts at times forced him to live elsewhere for stints, including the time as a teenager he pushed another brother down the stairs, breaking his leg, Lampkin told the Santa Rosa Press-Democrat in a story published Sunday. Wong served in the Army Reserve from 1998 until 2002, enlisted for active duty in May 2010 and was deployed to Afghanistan in April 2011, according to military records.
He was a decorated soldier and was awarded the Expert Marksmanship Badge. But that also meant Wong was tasked with dangerous assignments, where he saw "really horrible things" that affected his mental well-being, Sherr said. He sometimes called her before he'd go on a mission, when Army officials told the soldiers to call their families.
"I had the impression he was kind of put in harm's way, knowing that he didn't have a family," she said. "He didn't seem the least bit resentful." Sherr said after Wong was honorably discharged from the Army in 2013, he planned to enroll in school
and earn a degree in computer programming and business. "He loved computers and he liked music. He was thoughtful and independent," Sherr said. "He didn't have a traditional upbringing but still he became a fine young man."
Wong, who had a passion for working out at the gym, would often bring his ailing mother her favorite foods and spent a lot of time with her before she died last year, Sherr said.
But post-traumatic stress affected his ability to adjust to everyday life, Sherr said. He had trouble sleeping and was always wary of his surroundings. "I think he realized that it started to catch up with him," she said. "A couple of years ago, he told us if a door opens unexpectedly, I ask, 'What is that?'"
Lampkin said Wong was never the same after getting out of the military, often becoming fixated on petty grievances such as people owing him money or not pulling their weight.
Wong told Sherr he had found a program at the veterans home in Yountville, California, and had met people who helped him enroll in a treatment program. He was also receiving assistance at a veterans hospital in San Francisco, she said.
He told Sherr: "I think I'm going to get a lot of help from this program," she said, seeing the program as a possible path to recovery with other veterans in a similar position.
Officials have declined to provide additional information about why Wong was thrown out of the group. But they say the former Army rifleman went to the center about 50 miles (85 kilometers) north of San Francisco Friday morning before exchanging gunfire with police and holding the women hostage in a room inside the center.
Lampkin said Wong confided to another brother that he was angry at the veterans' program staff after he'd been dismissed from The Pathway Home. "Albert was a good person, he really was a good person," said Lampkin, who kept in touch with Wong by phone but hadn't seen him for years. "I heard he stopped taking his meds and started drinking a lot … He
never told me, he never told me."
The victims were identified as Executive Director Christine Loeber, 48; Clinical Director Jennifer Golick, 42; and Jennifer Gonzales Shushereba, 32, a clinical psychologist with the San Francisco Department of Veterans Affairs Healthcare System who was also seven months pregnant. After the shooting, John Dunbar, the mayor of Yountville and a member of The Pathway Home's board o directors, said Wong was "one of our heroes who clearly had demons."
The shooting has left Sherr with more questions than answers. Chief among them: Why did it happen and could more have been done to help Wong? "In less than a year — less than half a year — things started to unravel," she said. "He may have been without any resources to support him."