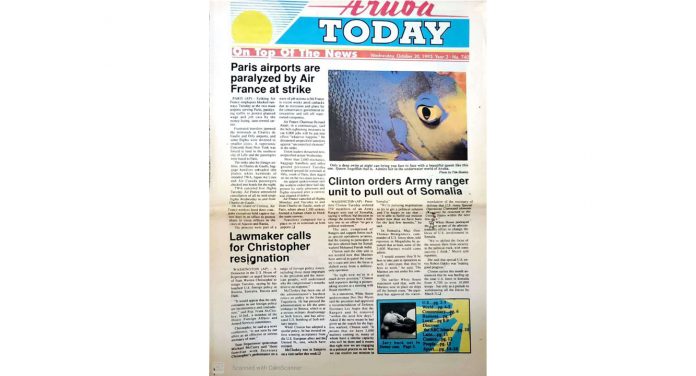 In these difficult times we would like to reach out to our friends abroad who were supposed to spend their tropical vacation on Aruba or who had to break up their vacation due to the COVID-19 situation. Aruba Today invites you to send us your picture and words expressing your memory of our island or your dream vacation for the future.
Tim Hanley from San Diego, U.S. sent us a picture from a front page of Aruba Today in the year 1993, a classic! This is what he wrote to us:
"With the times as they are, I was going through some of my older images and ran across 10 front pages of Aruba Today from 1993 and 1994. Enjoy!"
We will most certainly do so Tim, thank you for reaching out.
Last but not least: check out our website and Facebook page! Thank you for supporting our free newspaper, we strive to make you a happy reader every day again and look forward to have you here with us soon again! Stay healthy and keep safe!