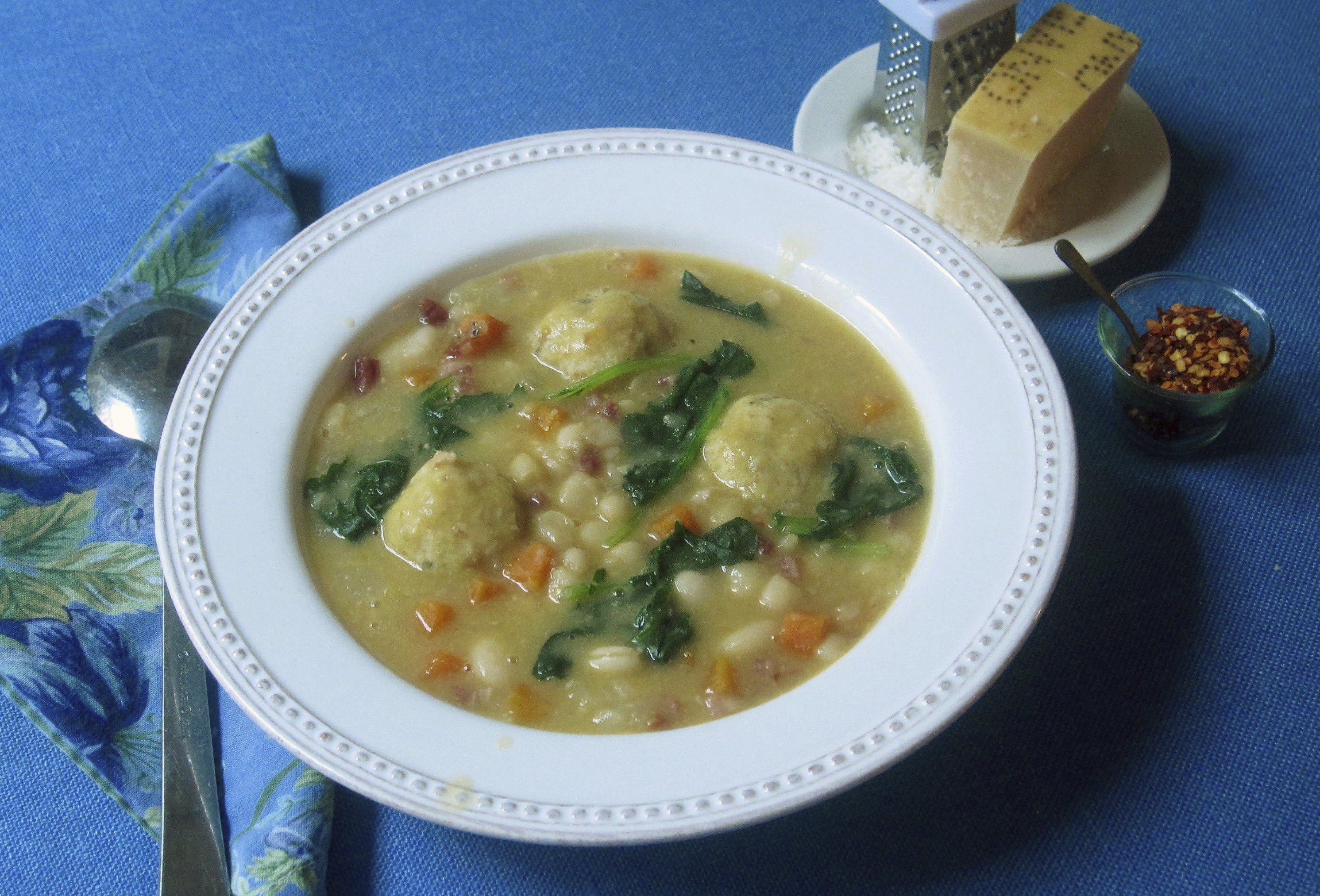 By SARA MOULTON
Associated Press
They say that everyone complains about the weather — winter especially — but no one ever does anything about it. Well, here's something you can do that will make you feel much better. Cook up a big hot bowl of Italian soup for dinner, garnished with homemade — and idiot-proof! — dumplings.
Basically, this is a white bean and vegetable soup flavored with pancetta and garlic. It's thickened by pureeing a few cups of the cooked vegetables and stirring them back into the pot — one of my favorite ways to thicken a soup because it's so simple. It also avoids dulling the soup's flavor, which is the problem that crops up when flour or cream is used to do the job. Afterward, you'll stir in some fresh lemon juice as a brightener. This is another of my favorite soup tips.
The pancetta makes its appearance as a supporting player, not the star of the show. If you'd like, you can swap in bacon instead. (Both meats are cured pork from the belly. The difference? Bacon is smoked. Pancetta is not.) And you're welcome to leave out the pork altogether.
The dumplings are comfort food and making them is, as mentioned, a fail-safe proposition. You start with fresh breadcrumbs, which require nothing more intricate than pulsing fresh slices of bread in a food processor. (One slice turns into about 1/2 cup of crumbs.) Then just combine the crumbs with eggs and Parmigiano-Reggiano. You can roll the "dough" into balls and cook them right away, but the work is easier if you park it in the refrigerator for at least 30 minutes beforehand.
How to round it out? I recommend a nice green salad. Did someone mention winter? You've neutralized it.
White Bean Soup with Greens and Bread Dumplings
Start to finish: 1 hour, 35 minutes (30 active)
Servings: 4
2 large eggs
2 cups fresh white or whole-wheat breadcrumbs
2 ounces freshly grated Parmigiano-Reggiano
2 tablespoons finely chopped fresh sage
2 tablespoons extra-virgin olive oil
4 ounces chopped pancetta
1/2 cup medium chopped onion
1 cup medium diced carrot
1 1/2 cups medium diced fennel
2 teaspoons minced garlic
Two 15-ounce cans white beans, drained and rinsed
4 cups chicken broth
8 ounces baby kale, spinach, or chopped larger greens of your choice
1 tablespoon fresh lemon juice or to taste
Kosher salt
Black pepper
In a medium bowl, lightly beat the eggs. Stir in the crumbs, cheese and sage. Cover and chill at least 30 minutes. Roll into 12 balls.
In a Dutch oven or large saucepan heat the oil over medium-high heat. Reduce the heat to medium-low, add the pancetta and cook, stirring occasionally, until the pancetta is lightly browned, about 8 to 10 minutes. Remove the pancetta with a slotted spoon. Leave all the fat in the pan, add the onion, carrot and fennel, and cook, stirring occasionally, over medium heat, until very lightly browned, 12 to 14 minutes. Add the garlic and cook, stirring, 1 minute.
Add the beans and the chicken broth to the saucepan. Bring to a boil, turn down to simmer and cook for 15 minutes. Add the dumplings to the pot and simmer, covered, for 8 minutes.
Transfer 2 cups of the solids with a little of the liquid to a blender and blend until smooth. Return the puree to the pan. Add the kale and pancetta and simmer, stirring, until all the greens are wilted, about 3 minutes. Add the lemon juice; salt and pepper to taste. Ladle the soup into 4 soup bowls and spoon 3 dumplings into each bowl.q
Nutritional information per serving: 485 calories; 160 calories from fat; 18 g fat (7 g saturated; 0 g trans fats); 136 mg cholesterol; 727 mg sodium; 51 g carbohydrate; 12 g fiber; 6 g sugar; 27 g protein.