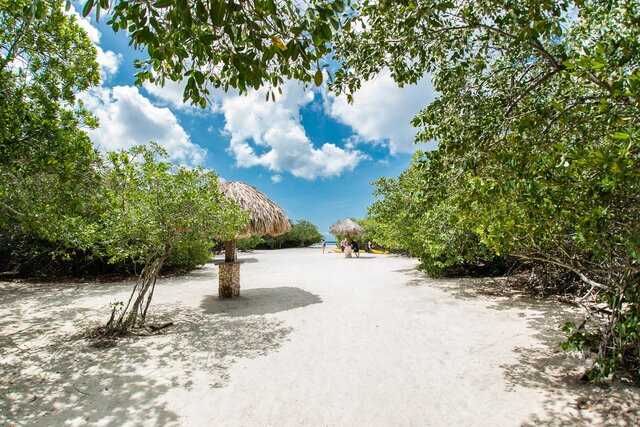 Located on the southwestern coast of Aruba lies Savaneta. This old village was the island's first capital, and remained so until 1797, after which Oranjestad became the new capital of Aruba and remains so until this day.  The oldest house in Aruba — a cas di torto, or mud hut, dating back some 150 years — is still standing in this historical town.
What to do in Savaneta
The rustic charisma and relaxed atmosphere of this community beckons islanders looking for a casual retreat from their busy lives, as well as visitors looking for unfussy, authentic local charm. Relaxing days can be spent at Mangel Halto, a gem of a beach located just north of Savaneta, where a dense network of mangrove trees leads to an irresistibly inviting expanse of shallow, aquamarine water, made remarkably placid by the protective barrier reef further out.
Savaneta's proximity and easy access to the sea has made this area popular within the local fishing community. Visitors will enjoy mingling with islanders at Zeerovers, a fisherman's wharf-cum-roadhouse promising a heady mix of local flavours. A counter near the entrance sells freshly caught fish to take away. Patrons can also have the fish prepared on the premises and then enjoy it on the waterside deck among the seasoned locals discussing the latest town news over a few ice-cold beers.
Savaneta in Aruba is home to the Roly Bislick Olympic Pool complex, the training grounds for Aruba's elite swimmers and synchronised swimmers and host to many international competitions. The Marine Barracks Savaneta is also based here, housing the Royal Netherlands Navy, the Netherlands Marine Corps, the Netherlands Coastguard and the Aruban Military.
Not only is Savaneta popular for its cultural richness, but it is also a very tranquil place to stay. There are no big Savaneta resorts, but you will find a selection of small boutique Savaneta hotels, holiday rentals and bed and breakfast-style accommodations.
Savaneta restaurants are known for their extremely fresh seafood and varied cuisine with a Caribbean twist.
When you ask a local about their favourite things to do in Savaneta, the chances are that visiting Mangel Halto Beach is one of them. This beach is like no other on the island. It is a great snorkelling spot adorned with beautiful mangroves, but what attracts everyone to this Savaneta gem is the laid back atmosphere!
Source: aruba.com