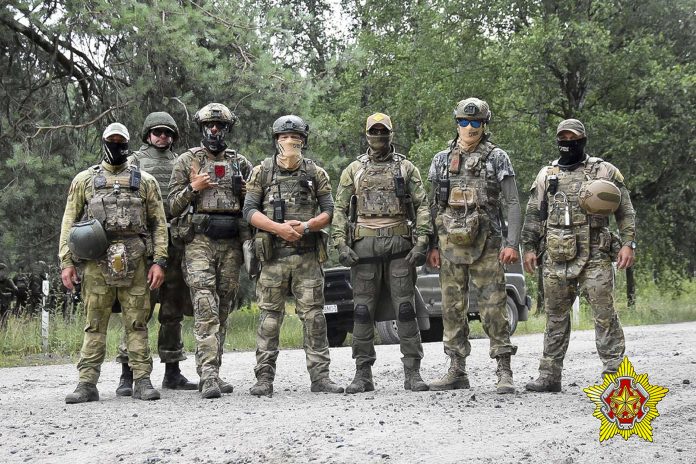 Associated Press
MOSCOW (AP) — Mercenaries from Russian military company Wagner launched joint drills with the Belarusian military on Thursday, almost a month after their short-lived rebellion against Moscow. Poland built up troops on its border with Belarus in response to the war games.
The maneuvers followed a pledge by Wagner chief Yevgeny Prigozhin to help protect Belarus from a potential incursion and to bolster its military. The Belarusian Defense Ministry said the weeklong drills would take place at a firing range near Brest, a city on the Polish border.
A video released Wednesday appeared to show Prigozhin for the first time since he led last month's mutiny. The recording shows him telling his troops that before deploying to Africa, they would spend some time in Belarus providing training to help "make the Belarusian army the second strongest army in the world."
Before the abortive rebellion led by Prigozhin, Wagner mercenaries fought alongside Russian troops in eastern Ukraine. They also were sent to Syria and several African countries since Prigozhin created the private army in 2014.
The U.K. government on Thursday imposed asset freezes and travel bans on 13 Wagner mercenaries over alleged attacks on civilians and other human rights abuses in Africa. Britain previously sanctioned Prigozhin and several other Wagner commanders over the group's role in Russia's invasion of Ukraine.
During the revolt that began on June 23 and ended the next day, Prigozhin's mercenaries captured the military headquarters in the southern Russian city of Rostov-on-Don and then drove as close as 200 kilometers (125 miles) to Moscow.
The Wagner chief called the mutiny a "march of justice" to oust Russia's top military leaders. The mercenaries faced little resistance, and downed at least six military helicopters and a command post aircraft, killing at least 10 airmen.
The revolt posed the most serious threat to Russian President Vladimir Putin's 23-year rule, eroding his authority and exposing the government's weakness.
Prigozhin ordered his troops back to their camps after Belarusian President Alexander Lukashenko brokered a deal to end the rebellion in exchange for amnesty and permission to relocate to Belarus for Prigozhin and his fighters.
Belaruski Hajun, a Belarusian activist group that monitors troops movements in Belarus, said that nine convoys with more than 2,000 Wagner mercenaries already have rolled into the country. A Wagner commander said in a statement posted on a messaging app channel linked to the company that about 10,000 Wagner troops are set to deploy to Belarus.
Opposition leader Sviatlana Tsikhanouskaya, who was forced to leave Belarus after challenging Lukashenko in a 2020 election that the opposition and the West denounced as fraudulent, said that Wagner's deployment would destabilize the country and threaten its neighbors.
"The arrival of Wagner will add to instability, and no one will feel safe with these war criminals roaming the country," she said.
Polish Defense Minister Mariusz Blaszczak said Thursday that he ordered some of his country's troops moved from the west to Biala Podlaska, around 45 kilometers (28 miles) west from Brest, and to Kolno, further north.
"We must bear in mind that bringing a few thousand of Wagner's forces into Belarus poses a threat to our country, hence my decision to move some military units from Poland's west to Poland's east," Blaszczak said on state Radio 1. "Their task is to train and to deter an aggressor. It is to show Russia that Poland's border should not be crossed, that it would not pay off to attack Poland."