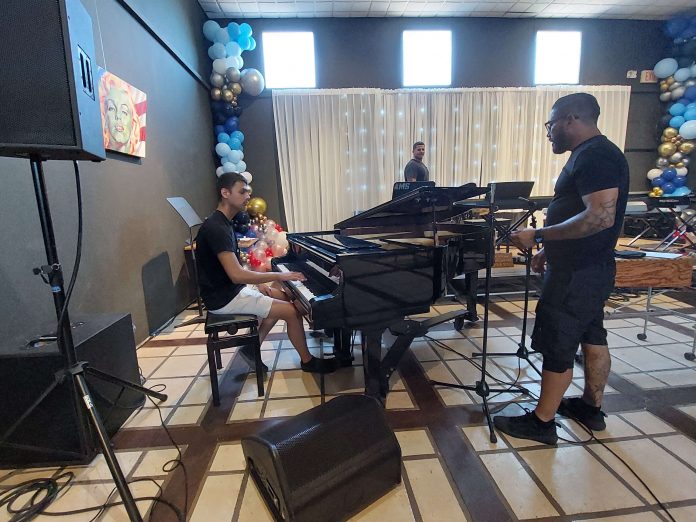 This week, Rufo Wever Music School organized a concert week where teachers and students will be showcasing their musical talent in various instrumental concerts. Music teacher at Rufo Wever Music School, Mr. Carlos Bislip, shared some information about this concert week.
Bislip mentioned that this week, the music school arranged a week filled with different concerts. Unlike previous years, when the school would hold a big concert in the large hall of the Cas di Cultura Cultural Center, this time they opted for each group of teachers to have their own presentation every day.
Bislip explained that the reason they chose to do it differently this year is that when they have a big concert, not all students get to play much, as the teachers usually allocate one or two kids to play. With this new concept of a concert every day, each teacher can have more children perform. "That's something that the parents like more because their children get to play more than one song," Bislip emphasized.
As for the concerts, Bislip mentioned that the concert week started on Monday, June 6th, with violin and guitar performances. Yesterday, on June 7th, the spotlight was given to two piano teachers with their instruments for the children. Today, Thursday, there will be a concert by a cuatro guitar teacher, together with the children's choir, which will have a more typical, folk-like atmosphere. On Friday, June 9th, another piano teacher will give a concert, but this one will focus more on jazz rhythms, and the other piano teachers will also present the folkloric part.
The last day of this concert week is Saturday, June 10th, and it will be the concert by teachers Franklin Granadillo and Bislip himself. Granadillo will perform with his brass instrument, and Bislip will play percussion.
Throughout the week, the concerts start at 5 p.m., and on the last day, Saturday, June 10th, the event begins at 3 p.m. The concerts take place in the small hall of the Cas di Cultura Cultural Center. To get tickets for the concert, you can call 582-2888 or visit Rufo Wever Music School.
Rufo Wever Music School extends its invitation to the people and visitors of Aruba to come and enjoy the music concerts presented by the teachers and students of Rufo Wever Music School.