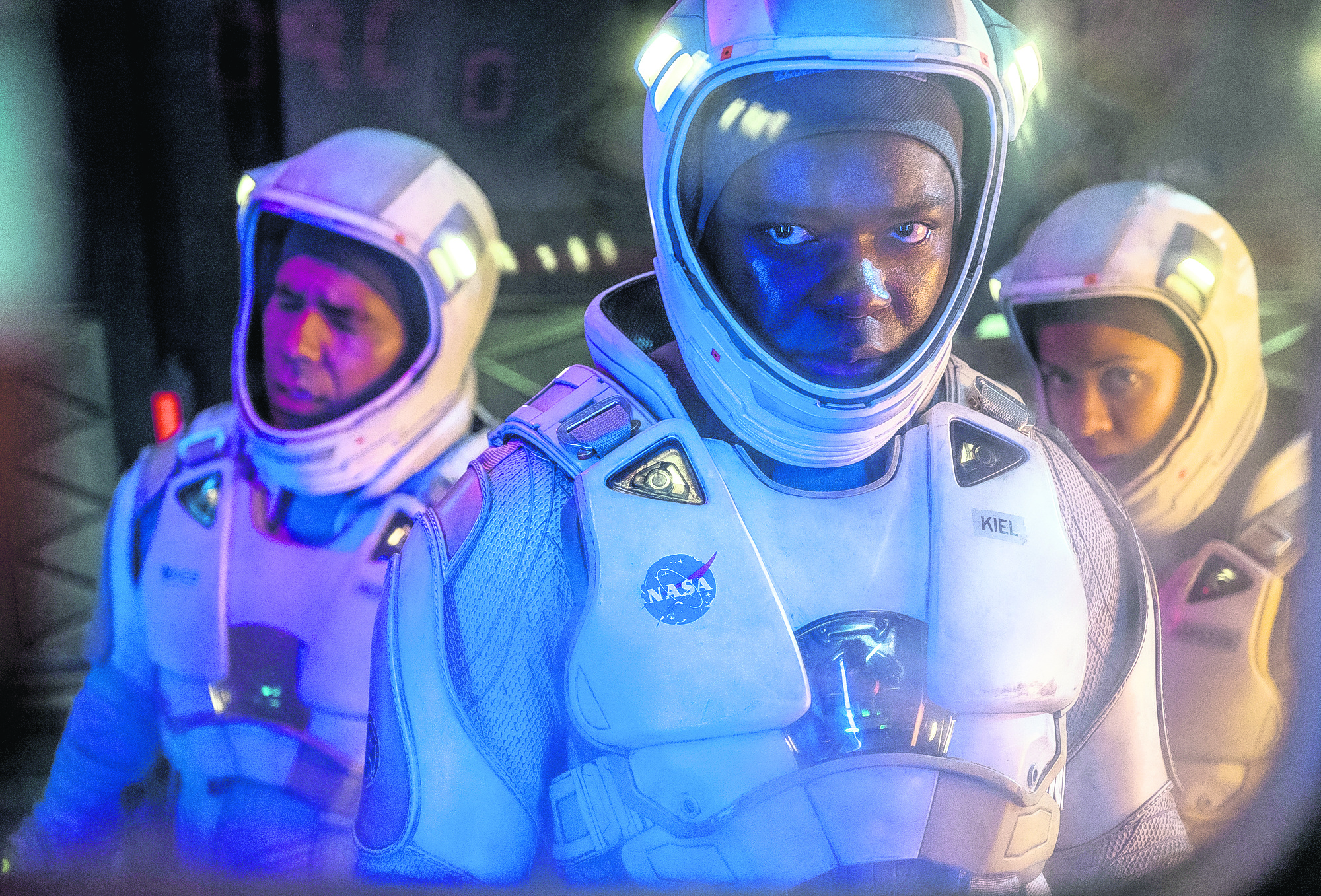 By MARK KENNEDY
AP Entertainment Writer
The big draw following the thrilling Super Bowl was a fresh episode of "This Is Us." But, very mysteriously, there was suddenly something else big to see. Netflix surprised nearly everyone by streaming the latest "Cloverfield" film directly after the game. But up against one of TV's most popular shows — promising an answer to a long-running cliffhanger — was it a terrible miscalculation or an attempt to hide a clunker?
The answer is a bit of both. Somewhere in "The Cloverfield Paradox" is an excellent sci-fi thriller but one that's in desperate need of sharpening. It's no disaster, like Netflix's recent "Bright," but it tries too hard to give something to everyone and ends of unsatisfying to everyone. That it had a poorly considered birth is simply its first problem.
The franchise — created and produced by J.J. Abrams — began with "Cloverfield" in 2008 and continued with 2016's "10 Cloverfield Lane." This time it looks up, far into space. It's set in a near-future where an energy crisis threatens to cause World War III.
A crew of seven multilingual, racially diverse astronauts — led by David Oyelowo and Gugu Mbatha-Raw — are in an orbiting space station trying to get a particle accelerator to work, thereby solving the crisis. But two years of failure have left frayed nerves and splintering cohesion.
Story creators Oren Uziel and Doug Jung borrow heavily from films like "Interstellar," "Alien," "Event Horizon" and even "Evil Dead II" to create their thriller, but fall victim to strange detours, including a woefully flimsy Earth-bound story-line that pointlessly follows one of the astronaut's husbands.
Directed with skill by Julius Onah, the film is under-lit for full paranoia, with slick, antiseptic visuals, including a spinning space station that resembles an upside-down cupcake tower. Onah is a little too reliant on huge orchestral movements to add a dose of urgent drama or a feeling of magnitude but he has dread down cold.
Back on the station, things are getting serious. The onboard particle accelerator threatens to risk splitting open the membrane between space and time, thereby shattering reality, unleashing chaos, monsters and demons. What? "I don't get it," says one flustered astronaut. You can sympathize.
What it really does is nudge aside a potentially fascinating head-warping plot about clashing realities and our responsibility to alternate worlds. That would have been some darn good high-brow sci-fi. But it gets overrun by the appearance of a severed arm, buckets of worms and dodgy eyeballs, which never get explained properly. "Logic doesn't apply to any of this," someone says, as if to inoculate the writers from blame.
Mbatha-Raw is a riveting lead and proves she can stand with any muscle-flexing space heroine of the past like Sigourney Weaver or Carrie Fisher. Elizabeth Debicki shows her creepy side brilliantly and the always welcome Chris O'Dowd proves to be the oddball in an otherwise high-functioning, very serious crew. His comic relief is a large reason you keep watching even if it threatens to destabilize the film.
How "The Cloverfield Paradox" fits into the franchise's universe seems to be clear at the end, but it is a clunky connection, raising plenty of questions. Along the way, the movie shares with its sisters a paranoia about the characters' real motivations and the uncertainty of what we really see.
But this time, the filmmakers have done that about "The Cloverfield Paradox" itself. What was the point of releasing it so late on a night already filled with entertainment? Perhaps a sneaking suspicion it's not
up to par? The best we can hope for is that in an alternative dimension the film is much better. That and "This Is Us" got canceled in its first season.
"The Cloverfield Paradox," a Netflix and Paramount Pictures release, is rated TV-MA. Running time: 102 minutes. Two stars out of four