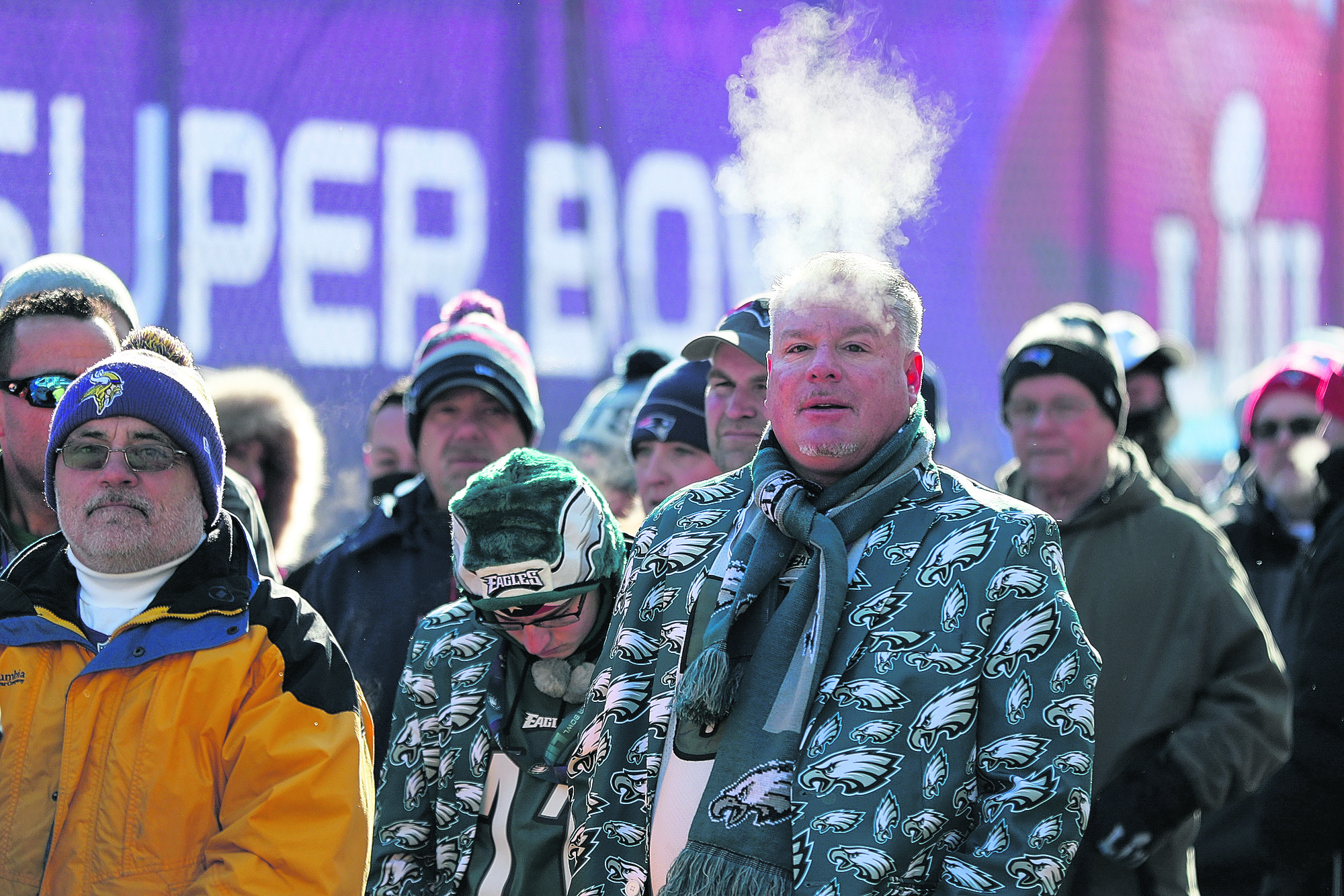 By AMY FORLITI
Associated Press
MINNEAPOLIS (AP) — After years of planning and many millions in spending, there was one thing organizers of Super Bowl 52 couldn't control — a Minnesota winter. The Philadelphia Eagles and New England Patriots played inside. But as fans were heading to U.S. Bank Stadium at noon Sunday, the temperature in Minneapolis was minus-2 degrees, with a wind chill of negative 23 — by far the coldest Super Bowl on record — raising questions about whether the NFL's marquee event would ever return to Minnesota.
While warmer climates tend to be more popular host cities, a flashy new stadium and amenities often play a bigger role than the weather in determining who will host the big game. "The owners will do as they like. So that's one of those decisions that's just not up to the fan base," said Mark Cobb, who has been to several Super Bowls in his work for the NFL Players Association. "Wherever has the newest, prettiest stadium, that's who gets the game."
Cobb, of Washington, said everyone in Minnesota was nice, and he'd return to Minneapolis for a Super Bowl. But he said the weather felt "like I was being punished. Minnesota is where they send you when you're bad. But if you embrace it like the people who live here, instead of fighting it, it's not so bad."
The NFL has used the Super Bowl as a reward for municipalities that pump public money into new venues. Minnesota was awarded the game in 2014, two years after state lawmakers approved a financing package that had taxpayers paying nearly half the cost of the $1.1 billion stadium.
Other northern cities have reaped similar benefits. New Jersey's MetLife Stadium got a Super Bowl in its fourth season, the only outdoor Super Bowl at a northern site to date (2014). Lucas Oil Field in Indianapolis hosted in 2012 and Ford Field in Detroit hosted in 2006, both at the end of their fourth seasons. The only other Super Bowls held in the north were in suburban Detroit at the Pontiac Silverdome in 1982 and in Minneapolis at the Metrodome in 1992.
While warmer climates have held more Super Bowls, there is no rotation of pre-selected cities that get picked, NFL spokesman Brian McCarthy said. He said it's up to club owners to take the initial step of expressing an interest in hosting. The sites of the next four Super Bowls are already chosen: Atlanta in 2019, followed by South Florida, Tampa Bay and Los Angeles.
Atlanta has a stadium that opened in 2017. Hard Rock Stadium in South Florida and Raymond James Stadium in Tampa have been renovated in the past three years, and Los Angeles will have a new stadium by the time it hosts the game.
McCarthy said the weather in Minneapolis wasn't a negative. Instead, he said it provided new experiences for fans, some of whom took advantage of the Minneapolis skyway system, a collection of enclosed — and heated — pedestrian bridges.
"We knew weather was going to be a factor and we embraced it," he said.
Andrea Mokros, a spokeswoman for the Minnesota Super Bowl Host Committee, said the event was a "huge success." Visitor numbers were still being calculated, but Mokros said outdoor concerts and other events were well attended, even on the coldest nights during 10 days of festivities.
"The cold didn't slow anyone down and in fact made it a more memorable experience," she said. Mokros said the winter climate allowed the host committee to offer a different sort of fun for guests,
such as snowmobiling or skijoring (cross-country skiing while being pulled by a dog). And she said she felt some pride when she saw celebrities donning winter hats and embracing the cold weather.
Paul Vaaler, a professor of management and law at the University of Minnesota law school and the Carlson School of Management, said while warmer tourist destinations are more likely to get Super Bowls, there is some strategy to spreading the game to different franchises: The promise of a Super Bowl can lead cities to build new stadiums and keep teams from leaving certain markets.
Because of that, he said, other northern cities are likely to host the Super Bowl before Minnesota gets another chance.
"That incentive to build a stadium and attract the Super Bowl is gone (for Minnesota), but it's not gone in a place like Cincinnati, or a place like Denver" or other northern NFL cities that have stadiums that are more than 20 years old. "For other northern climates, there will be pressure."
Some fans said the weather was tolerable and there were plenty of experiences in Minneapolis to keep them entertained. Others said that even though Minnesotans were hospitable, they'd prefer a warmer location.
"The cold was just brutal," said Philadelphia Eagles fan Terry Laufer of Carrollton, Virginia. His wife, Rhonda, said: "I would never be able to bring children here. It would be too risky." The pair said they'd return with their grandkids in September, when it's warmer.
"You could have had the Arctic Circle and it would have been a great experience," said Jody Haggerty of Milford, Pennsylvania. "Minneapolis made it work. … It's not about the location. It's about the experience, the atmosphere and the game.