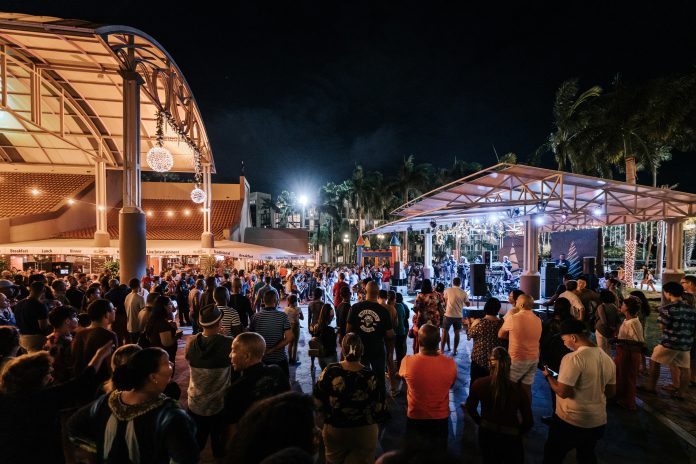 Winter Wonderland is a magical world created by the Renaissance Marketplace. For the third time this successful event is on and you simply cannot miss it. Locals are looking forward to this event the full year and visitors will not easily forget the experience. Until December 22nd the Marketplace is transformed into a Christmas fairytale with daily live musical entertainment, an ice skating court, Christmas cottages and meet & greet with Santa Claus and his elves. The village offers seasonal delights for everyone. This daily event is from 6:00pm to 10:00pm.
Jody-Lynn Desbarida is the Shopping Centers Marketing Coordinator and gladly explains what we are going to experience with Winter Wonderland. "Winter Wonderland is a nice get away for adults and children. The main reason of Winter Wonderland is to bring people together, entertain them and bring them into the Christmas spirit. Besides that it is a great option for the community and visitors to meet and connect." For the little ones they offer the ice skating court to enjoy and the arts & crafts workshops in Christmas theme, all for age four and up. There is a fun Dino jump, welcome to children from three years old. "And also important: We have free parking around the whole property." This year there are Christmas cottages offering among others the popular Funnel cake and a photo booth for that great Christmas @ Aruba memory. "We have really good live music on stage and you must definitely visit our newest bar 5 o'clock Somewhere by Margaritaville," Jody-Lynn explains. The popular local music bands Grupo di Betico, Las Unicas, Robert Jeandor y su solo banda show, Claudius Philips y Oreo and many more will for sure make you 'wanna dance'.
Take that cab or drive your car to Winter Wonderland because this is full fun and a great ambiance. Mingle with the locals, shop, eat, drink, dance, feel happy and taste Aruba's Christmas. Discover the magical world of Winter Wonderland where you'll find the best Christmas spirit for this joyous season.
Christmas to Jody-Lynn is being together with her family, the ones you love the most. It is also about having fun, thinking about life and of course enjoying the great food. "Christmas should be about giving, giving the best of you to everyone around you. I wish for everybody the best that a holiday could offer; peace, joy and love to you and your family."
Renaissance Marketplace is located in the heart of Oranjestad, a short walking distance from the Main Street, and next to the picturesque Renaissance Marina. Find them on facebook.com/RenaissanceMallandMarketplace.
https://www.facebook.com/RenaissanceMarketplace/https://twitter.com/renaissancemallhttps://www.instagram.com/RenaissanceMallAruba/