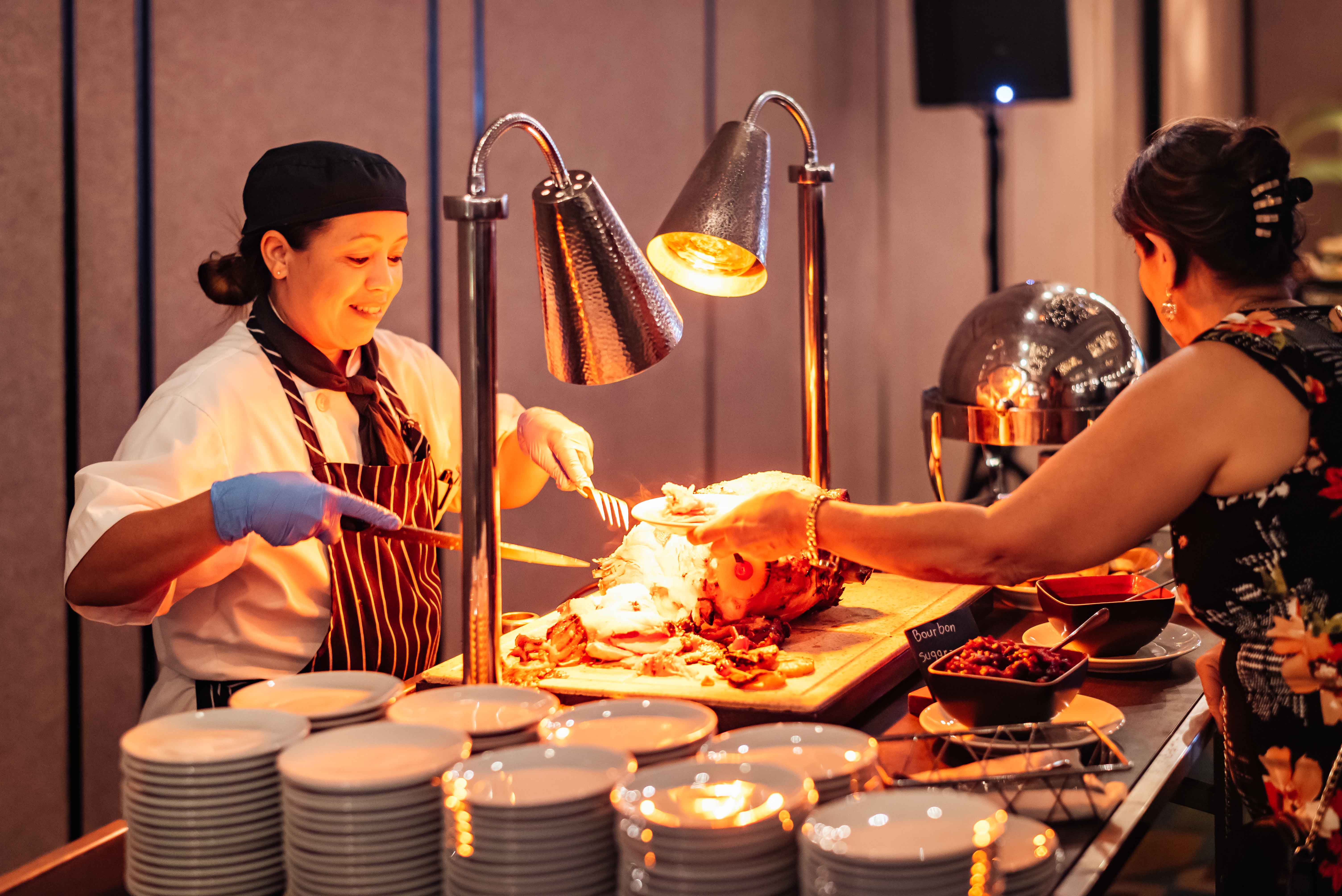 ORANJESTAD– Recently Renaissance Aruba Resort & Casino introduced their freshiest, trendiest and completely renewed menu, to their corporate associates. Director of events, Edrien Arends says "We introduced a system where the clients has a base to start with and can top it up with whatever they like. Whether you prefer healthy choices or some delicious local dishes it's all up to you. With a dynamic presentation and a bigger food station this is perfect for any coorporate event.
The renewed will "tickle" all your senses even including a 'coffe break' serving as a Power Boost (green tea with apples, cucumber, celery and ginger dip, different sauces such as hummus, baba ghanoush, vegetables and local delicacies) or 'Chips & Dips' which emphasizes Mexican dishes. "Our main goal is to offer variety and flexibility. All this while exceeding the markets expectation, especially with the healty options", says Arends.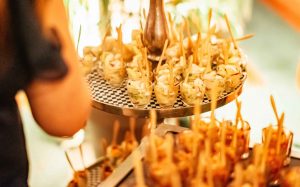 Lunch: An exciting culinary world
Aruban, Arab, Cuban, Caribbean, Italiean, Greek, Japanese, Mexican…. you named it we have it! The options for lunch (buffet) at the Renaissance Aruba Resort & Casino is a world of its own. Whether you join for lunch or dinner the choices are difficult with so many options.
For a reception or cocktail the Resort offers different themes such as Antipasti', 'Sushi', 'Seafood' and 'Sweet Temptation. They also offer Lump Crab' and 'Mango Salad,' a mousse made with cucumber and avocado or choose Seared Scallops' and 'Japanese Noodle Salad'. Also served as appetizers are the `Baby Lamb' in garlic or 'Goat Cheese Beignet Apple' with 'Shallot Marmalade'. A modern and trendy presentation, a perfect combination of culinary surprises that will defintely exceed your expectations.
All at a great price!
Renaissance Aruba Resort & Casino offers different seating options: indoor in the elegant ballroom, outside at the Festival Plaza or even at our private island. For more information visit renaruba.com or call 523-6064
Rewarding program
Marriott Bonvoy is the new reward program which combines the Marriott rewards, SPG and Ritz Carlton Rewards into one loyalty program for their costumers.
Here the corporate clients will receive and are also able to redeem their points at more than 6.700 hotels at 130 different countries around the world. Points are awarded based on daily stays at any of their hotels or whenever you take part at any event at the Renaissance Aruba Resort & Casino, or by making a reservation for a group of 10 or more per night. For every event you will receive 2 points also on every dollar spent on food, drinks or audiovisual equipment you can accumalte up to 60.000 points. Points can be redeemed for hotel stays, travel miles and much more. Take advantage of the great offers that Renaissance Aruba has right now. For more information on the Marriott Bonvoy program contact Ariana Santiago at asantiago@arubarenaissance.com