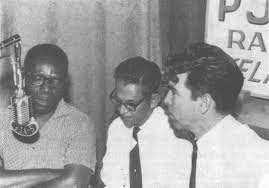 On March 20, 1954, the brothers Carlos and Joaquin Kelkboom started in the building at Emmastraat 3 in Oranjestad with the first commercial radio station (PJA5) of Aruba: Radio Kelkboom. When it was founded, Carlos Kelkboom was initially only responsible for the economic part and Joaquin Kelkboom with the technical part. Later the technical part was also taken over by Carlos Kelkboom.
In 1980 the studio moved to Bloemond 14, in Paradera, where the transmitter and transmission tower were already located. Until April 2, 1989, only the A.M. band broadcast (P4A5). First at 1435 Khz later at 1440 Khz. After that, the broadcasts were also on the F.M. band on 106.7 Mhz (P4A20).
Radio Kelkboom offered an informative program aimed at the elderly inhabitants of Aruba. Radio Kelkboom had a clearly recognizable programming. The news programs were often listened to, both in Papiamento and the direct broadcasts of Radio Netherlands World Broadcasting and Voice of America. In addition to broadcasts in Papiamento's own language, Kelkboom also broadcast programs in Spanish and Dutch. In addition, various radio programs from the Netherlands were forwarded via Radio Kelkboom. Local music had a high priority, which is reflected, for example, in the program Butishi di Alegria, which was on the air since 1964. To promote this local music, Radio Kelkboom started Watapana Recording Studio in 1983. In 1998 Watapana Recording Studio started its own CD production. Years after, Emile Kelkboom took over the station.
Radio Kelkboom, after 59 years of broadcasting, stopped broadcasting in June 2013.