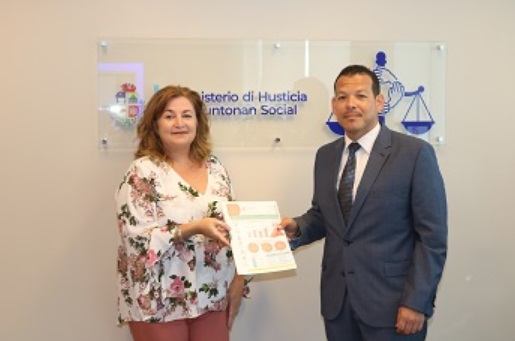 The Minister of Justice and Social Affairs, Mr. Rocco Tjon, recently met with the board of the Safe House Aruba, in which the board gave a presentation about the progress and goals for 2022.
The safety house is, among other things, responsible for processing the policy regarding complex matters and persons with multiple social problems. It provides treatment for aggressors and victims of relational violence, undocumented individuals, and seniors. It also facilitates and develops the collaboration between the chains of social care and judicial chain. The Safe House focuses on specific groups, including risk juveniles, repeat offenders, confused individuals, individuals with addictions, psychiatric patients, and double diagnostic cases. It also works with aggressors and victims of relational violence, undocumented individuals, and seniors.
The Safe House works with key partners in the judicial chain and social care like; Bureau Leerplicht, Bureau Sostenemi, KIA, Department for Social Affairs, Guardianship Council Department, Fundacion Guia Mi, Wit Gele Kruis, Fundacion pa Maneho di Adiccion, Respaldo, Bureau Slachtofferhulp, Aruba Police Department, Prosecutors Office, Stichting Reclassering en Jeugdbescherming Aruba, Sociaal Psychiatrische Dienst and the FCCA.
Subjects discussed during the meeting were the increasing use of drugs among the youth and the long waiting list for mental healthcare. The Safe House's goals for 2022 include personnel self-care, professional development, early detection, and case studies within the chain.
The Ministry of Justice and Social Affairs encourages structural participation in these meetings, considering its added value throughout the chain, to better coordinate the cases and take the necessary steps to offer help on time.