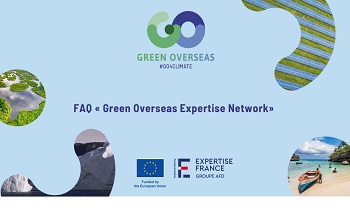 The Green Overseas "GO" Programme, funded by the European Union (EU) and implemented by Expertise France, is establishing a pool of service providers with expertise in energy transition and/or climate change resilience and with a solid knowledge of the EU Overseas Countries and Territories (OCTs) and the UK Overseas Territories (OTs) – in particular in the Caribbean region.
This pool of service providers is called the "Green Overseas Expertise Network".
Once selected to be part of the Network, the service providers will be invited to compete for specific contracts for the implementation of various activities in the EU OCTs and UK OTs.
Interested applicants (individual experts, consultancies, companies, NGOs, etc.) with suitable expertise and experience are invited to apply on PLACE, the French public procurement platform. The consultation's reference number is "2022/S 205-585112"